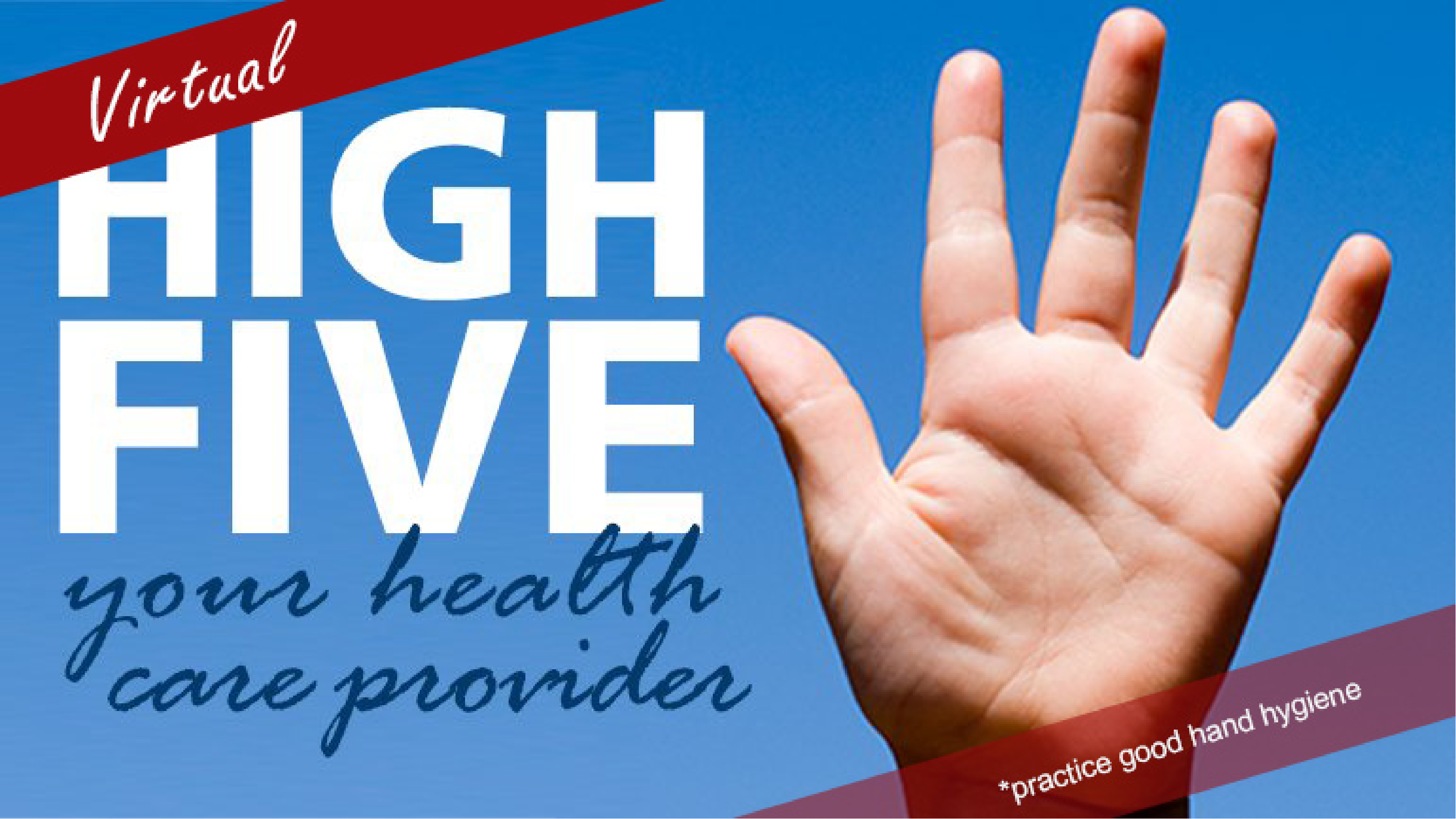 This week's high fives go to our amazing people at Abbotsford Regional Hospital, Chilliwack General Hospital, our COVID-19 Testing and Immunization Centres in Chilliwack, Coquitlam, and Langley, Langley Memorial Hospital, and Royal Columbian Hospital.
Want to send a high five to your health care provider or Fraser Health team member? Leave a comment below or send your thanks using our online submission form. Read more kudos at fraserhealth.ca/highfive.
---
For Abbotsford Regional Hospital
I had an ultrasound performed March 31. The ultrasound technician was lovely. She was incredibly kind, patient and helpful. She answered all of my many questions and definitely made me feel at ease about the whole process. She was also really funny, which was much appreciated. I wish I could remember her name, however I am sure the whole department could use a big thank you as well!
---
For Coquitlam COVID-19 Immunization Clinic - Coquitlam Poirier Forum
I just want to compliment the overall set up. The fantastic idea to use Air Canada staff who clearly know how to move people effectively and with class. I know this is such a large undertaking with repetitive and long days, but I appreciated the care everyone took in ensuring the patient was seen and cared for.
---
For Chilliwack COVID-19 Immunization Clinic - Chilliwack Mall
We had a great experience. Staff was very organized and efficient and kind. We were in and out very quickly. Looking forward to the second dose.
---
For Langley COVID-19 Immunization Clinic - Langley Events Centre
Thank you for all dedicated professional personnel on site administrating COVID-19 vaccine and to everyone else showing your professionalism and support in helping to get us through this difficult time to receive our vaccine.
---
For Langley COVID-19 Immunization Clinic - Langley Events Centre
Received the COVID-19 vaccine on April 5. The injection was professionally administered by the health care provider. Thank everyone for their dedication to this day on my appointment in receiving the Pfizer vaccine, was so happy.
---
For Langley Memorial Hospital
Everyone at the emergency, from reception to X-ray technician, nurses and the doctor were super caring, knowledgeable and friendly. I have yet to find a more caring crew at a hospital. I love Langley Memorial Hospital!
---
For Royal Columbian Hospital
My second baby was born at Royal Columbian Hospital. I had a great experience with my hospital stay. Thank you so much to all the nurses and health care providers at the Maternity Unit. You guys rock!
---
For Fraser Health Vaccine Phone Booking
I booked by phone today and the process was quick. The booking assistant was friendly and efficient, while he was still on the phone I was receiving the pertinent texts. Thank you!