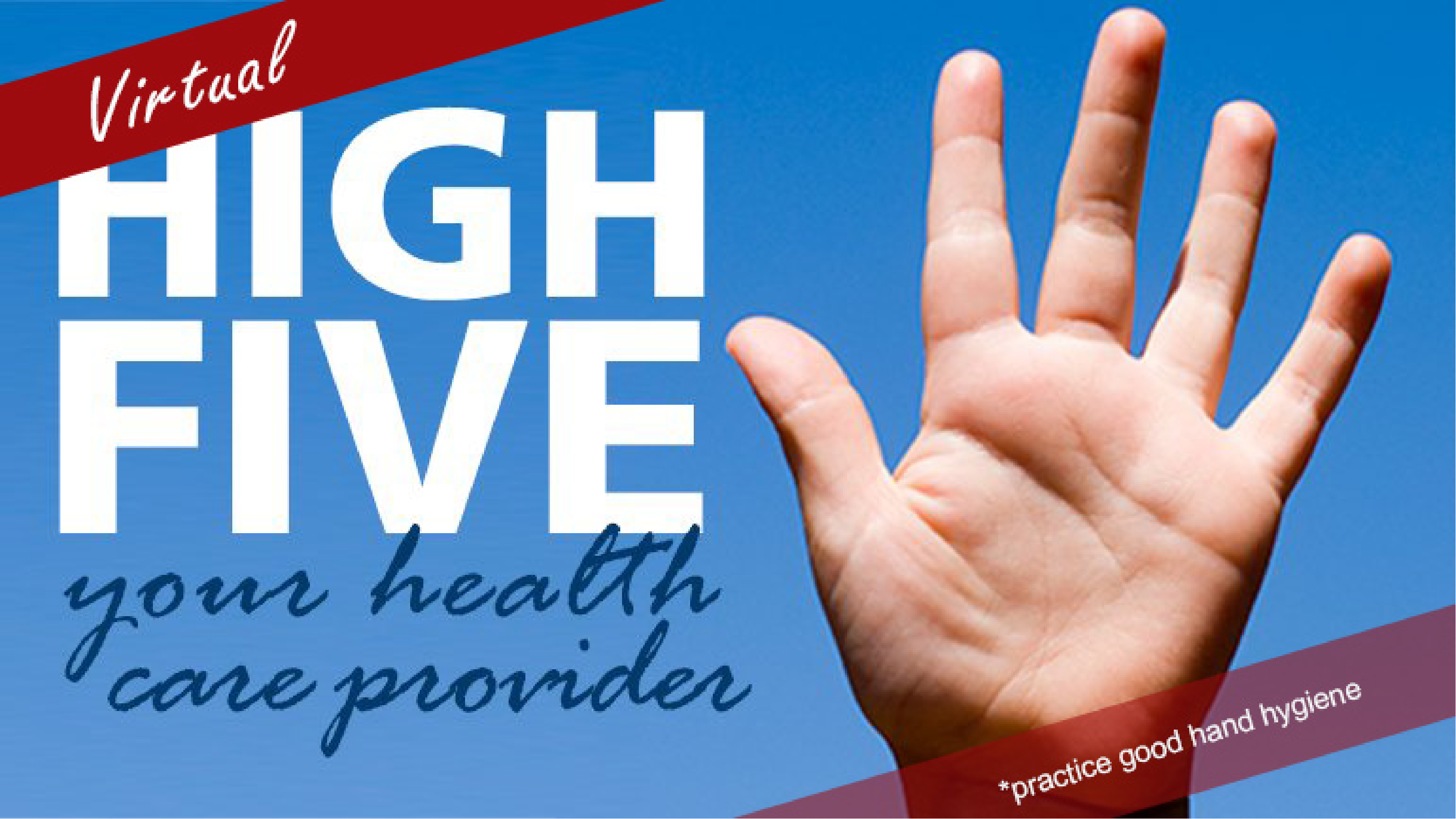 This week's high fives go to our amazing people at Burnaby General, Langley Memorial, Peace Arch, Royal Columbian, and Surrey Memorial Hospitals, and the South Delta Health Unit.
Want to send a high five to your health care provider or Fraser Health team member? Leave a comment below or send your thanks using our online submission form. Read more kudos at fraserhealth.ca/highfive.
---
For Burnaby Hospital
I would like to thank the Burnaby Hospital staff and Dr. Cuddington for my operation. All the staff were fun, well-mannered, had great spirits, had excellent bedside manner and offered helpful information.
---
For Langley Memorial Hospital
I would like to thank Dr. Dahmi, the Emergency Department and the whole team for the great care and compassion I received from you.
---
For Peace Arch Hospital
I went into the Emergency Department with bad chest pain. I was panicking. A nurse named Mickey calmed me down as he brought me into a room for testing. He reassured me that everything would be okay. When I was cleared to leave he saw me outside and checked in after. He is very good at what he does!
---
For Royal Columbian Hospital
The cardiac doctors, nurses and porter were all amazing and critical in helping me get urgent surgery on a busy day. I'm so grateful for the excellent care they all provided. Thank you!
---
For South Delta Health Unit
Wow! Your vaccination site is so well-run! Erwin and Trevor are very friendly and reassuring. Great staff to have welcoming people to the site. Everything ran so well. Thank you all for caring as much as you do.
---
For Surrey Memorial Hospital
Thanks to Daisy and Peter, registered nurses in the Neurology Department at Surrey Memorial Hospital. Your bright and caring approaches make you gems on your team. Continue to advocate for your patients as you are their voice in an unfamiliar place. Thank you so much. You truly are passionate nurses.
---
For Surrey Memorial Hospital
Truly grateful for the care I received from Dr. Coll and his team as well as the anesthesiologists. It was healing to be seen, heard and given great care at a time I was in pain. Their cheer and professionalism were truly a blessing.
---
For Surrey Memorial Hospital
I received excellent care from Dr. Warwas, Nurse Robyn and many others. I truly appreciate the care and concern I experienced during the two days I was there. Dr. Warwas helped me quickly, explained everything along the way and took his time to answer all my questions. All the nurses were kind and understanding. Thank you all so much!