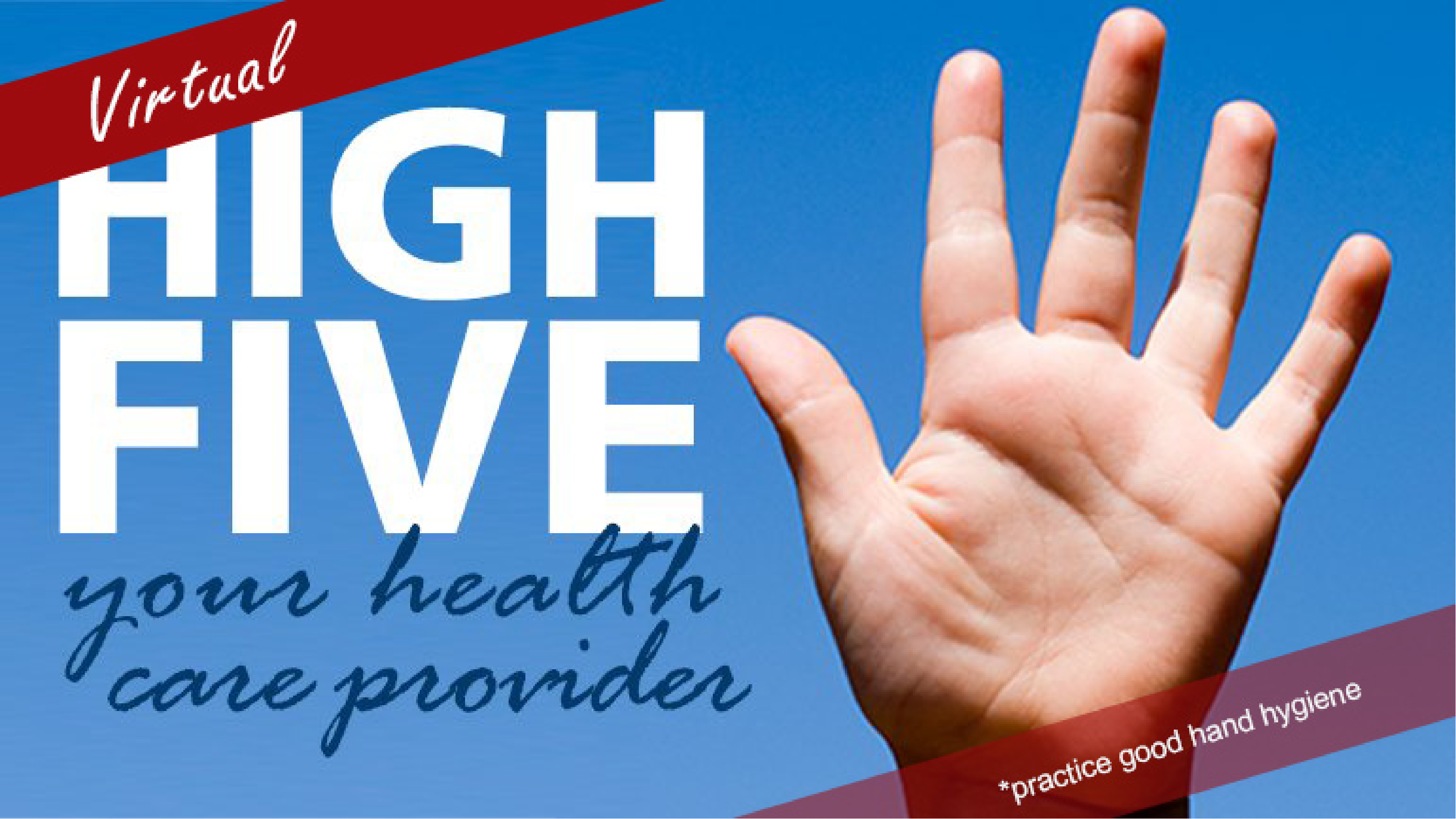 This week's high fives go to our amazing people at Burnaby Hospital, Langley Memorial Hospital, Chilliwack Mall COVID-19 Vaccine Clinic, Eagle Ridge Manor, Abbotsford Regional Hospital, Surrey Memorial Hospital and Royal Columbian Hospital.
Want to send a high five to your health care provider or Fraser Health team member? Leave a comment below or send your thanks using our online submission form. Read more kudos at fraserhealth.ca/highfive.
---
For Langley Memorial Hospital
The nurse Lisa in the Emergency Department was incredibly attentive and caring.
---
For Chilliwack Mall Clinic
We had our second COVID-19 vaccine at the Chilliwack Mall Clinic and the process was as smooth as a well-oiled machine. We were done within 20 minutes of arriving. Thanks!
---
For Burnaby General Hospital
Thank you to Jodi in medical imaging. I took my mum for an appointment. Jodi was the only person at the desk. It was a busy waiting room but she was efficient while still being friendly. She really was in her element, went above and beyond and got my mom a warm blanket when she overheard that she was cold!
---
For Eagle Ridge Manor
My spouse has visited the Respite Hotel at Eagle Ridge Manor numerous times now. The nursing and care staff are amazing there. My husband and I have been greeted with nothing but kindness and respect each visit, and even during COVID-19 they take their time to explain and make my spouse feel welcome. I cannot thank them all enough.
---
For Burnaby General Hospital
I was recently admitted to Burnaby General Hospital. I want to say thank you for the great care I received and a special mention to cardiac nurses Sharon and Helen.
---
For Royal Columbian Hospital
My stay in the orthopedic ward was excellent. I have so much respect for these nurses. I witnessed them doing all they could to show love kindness and care for each patient. I am so thankful we have them.
---
For Abbotsford Regional Hospital
Thanks to the Emergency Department staff at Abbotsford Regional Hospital for their care and professionalism. Nurse Natasha and Dr. Chris treated us with such kindness. It made all the difference. Thank you for your hard work and for looking after my daughter!
---
For Surrey Memorial Hospital
I want to sincerely thank the Surrey Memorial Hospital team for saving my life during my fight with COVID-19. I would not have been able to recover and return home to my family without your extraordinary care. Special thank you to Mylene and Kristine who went above and beyond, encouraging me at my lowest, in additional to their medical attention. I have immense gratitude.