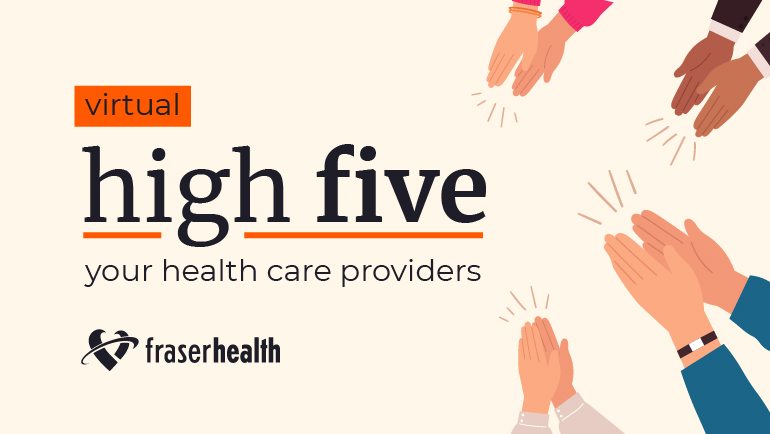 This week's high fives go to our amazing people at Royal Columbian Hospital, Ridge Meadows Hospital, Eagle Ridge Hospital, Langley Memorial Hospital and Abbotsford Regional Hospital.
Want to send a high five to your health care provider or Fraser Health team member? Leave a comment below or send us your story here.
---
For Royal Columbian Hospital
The nursing staff in the Gastrointestinal Surgical Day Care Unit absolutely rock. I had an amazing experience there and just love the staff. Two nurses specifically, Kelly and Ed, went above and beyond to take great care of me. Calming me down and just being there for all of their patients. I am so happy to have had that team on shift. Thank you so much.
---
I want to thank Anna, the charge nurse in the Emergency Department (ED) at Royal Columbian Hospital. I was connected with Anna after calling the main hospital line. While on the phone, she took the time to explain the process in the ED for communication with doctors as well as visitors. Anna took time out of her busy job to speak with me. I could hear the noises in the background and I'm sure she really didn't have time for me but she made me feel like she did. Please thank Anna and her team in the ED; you really made a positive difference. Thank you.
---
For Ridge Meadows Hospital
I recently had a procedure at Ridge Meadows Hospital. I won't lie, I was terrified. I can honestly say that it was a good experience. Everything went perfect. I was very happy when I left.
---
For Eagle Ridge Hospital
I was staying at the hospital overnight with my dad. The night nurse, Talida (W2A), got me a reclining chair so that I could sleep better. I really appreciate the extra mile she went. Talida was really awesome.
---
I'd like to sincerely thank all of the staff at Eagle Ridge Hospital for their kindness and care. I've never had surgery before and I couldn't have asked for a better first experience. Everyone from the Emergency Department through to the CT, Operating Room, Post Anesthesia Care and Day Care units were so kind, attentive and professional.
---
For Langley Memorial Hospital
The admitting clerk in the Imaging Department helped an elderly women who was there with her grandson. The clerk found a way to squeeze her in for a CT scan and then helped a gentleman find his lost necklace. Her dealings with both of these people showed her true colors.
---
For Abbotsford Regional Hospital
I deeply admire the nurses, doctors and health care staff at Abbotsford Regional hospital. They have been working overtime through the pandemic to give care to all patients regardless of ethnicity and life path.