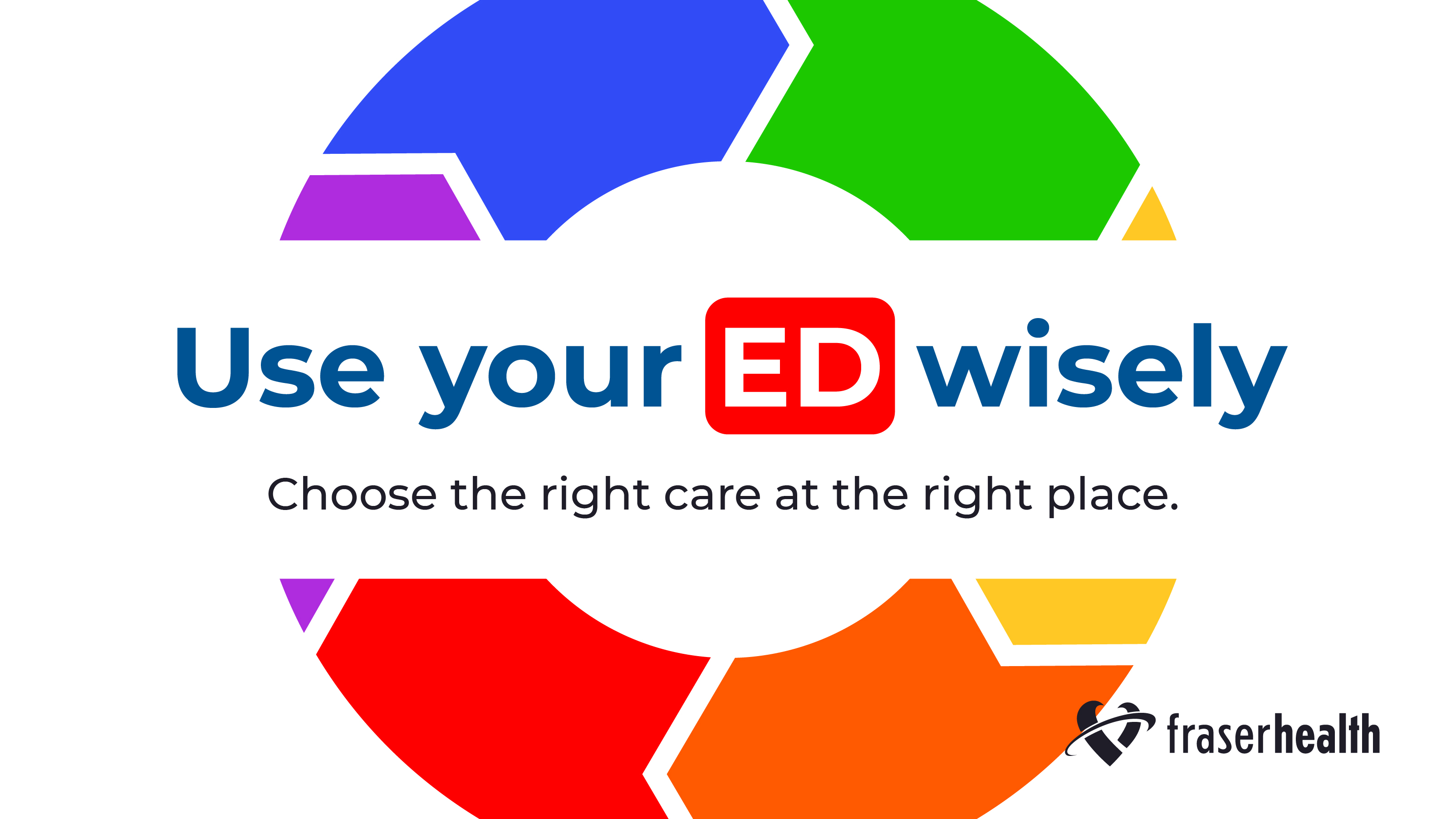 Plan ahead for health care during the winter season and save the emergency department for emergencies.
It is important to choose the right care option to get the help you need. Emergency departments tend to see an increase in patients this time of year and patients with the most urgent care needs are seen first.
Emergency departments are vital in life-threatening situations, however, they are not set up to care for routine illnesses, and they do not work on a first-come, first-served basis. If your care needs are not urgent, you may have to wait a long time to be seen. In those cases, consider other health care options, which may be faster, more convenient and more appropriate depending on your care needs.
Think you might have COVID-19 and not sure if you need a test? Learn more: fraserhealth.ca/covid19testing.
Where possible, consider the following options for your and your family's health needs. Interpreter services are also available for those who are not comfortable with English. You or your health care provider can call the Provincial Language Service line at 604-297-8400 or 1-877-228-2557 for more information.
For any health concern call your family doctor first. Your family doctor knows you and your medical history. Same-day, urgent appointments may be available.
If your family doctor is not available or you do not have one, or if you have an injury or illness that requires immediate medical attention that is not an emergency, visit an Urgent and Primary Care Centre. Find a location at fraserhealth.ca/urgentcare.
For trusted health advice call Fraser Health Virtual Care to speak with a registered nurse from 10:00 a.m. to 10:00 p.m. seven days a week. Call 8-1-1 outside of those hours.
For an urgent medication refill, speak with your pharmacist. Your pharmacist may be able to provide an emergency refill of your prescription, including medications for chronic conditions. Contact your pharmacist for minor issues that you may be able to manage with over-the-counter medications.
For more health care options in your community, including flu clinics and COVID-19 testing or vaccination, visit pathwaysmedicalcare.ca. For walk-in clinic locations, wait times and hours, check medimap.ca.
For culturally-safe and holistic primary care services for First Nations, Métis, and Inuit people of all ages, xixɑɬəm̓ət ct tə məlsteyəxʷ ct - We are Caring for the People, is available in many communities.
If you are Aboriginal and receiving care in the Fraser Salish Region, you can contact an Aboriginal health liaison to help you access health care services to meet your needs: 1-866-766-6960.
For crisis lines that offer culturally-safe supports, please call:
For mental health/substance use concerns, call the 24/7 Fraser Health Crisis Line at 604-951-8855 or toll free at 1-877-820-7444.
For a child/youth mental health crisis, call Fraser Health's START program at 1-844-782-7811.
For cross-cultural mental health and substance use resources including resources and videos, visit our cross-cultural supports for mental health concerns web page.
For Surrey residents, if you or your loved one has an urgent mental health or substance use concern (that does not require hospitalization), visit the Surrey Mental Health and Substance Use Urgent Care Response Centre.
For a possible poisoning or exposure to a toxic substance, call Poison Control at 1-800-567-8911 Call: 1-800-567-8911.
For critical or life-threatening conditions, call 9-1-1 or go to the nearest emergency department. Some examples of emergencies include, but are not limited to:
chest pains
difficulty breathing
severe bleeding
broken bones, or suspected broken bones
stroke or heart attack symptoms
symptoms of sepsis
pain in early pregnancy