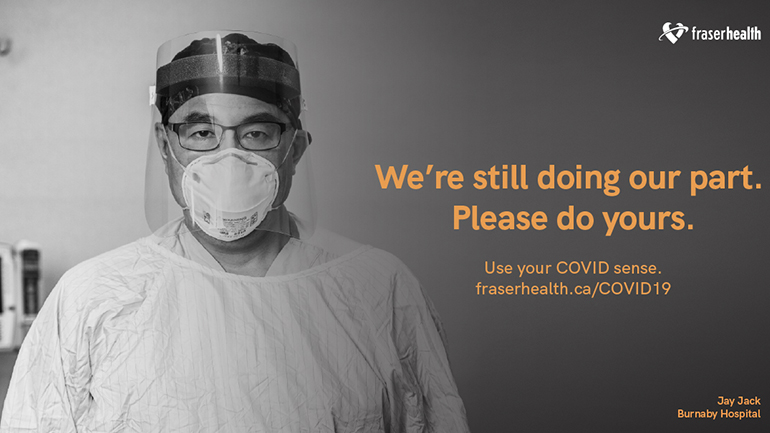 Transmission of COVID-19 continues in our communities, and today, Fraser Health is calling on our communities to continue to follow the COVID-19 public health measures.
"At this critical time, it is imperative that British Columbians work together to prevent the transmission of COVID-19 in our communities. We are working hard to ensure vulnerable populations receive the COVID-19 vaccine as quickly as possible, but immunizations are only one part of the equation: we must all follow the public health measures that are in place to keep our communities safe," said Minister of Health Adrian Dix.
To reinforce the importance of abiding by all measures, staff and medical staff across Fraser Health are asking everyone to continue to do their part. Dr. Shelliza Mohammed is a parent and hospitalist caring for COVID-19 patients at Burnaby Hospital and is acutely aware of the need to prevent infection.
"It's distressing to see this severe illness in patients and I'm grateful most people will never have to witness it," she says. "I am doing everything I can to keep patients, colleagues, family, and the community safe."
"Our health care workers continue to work extremely hard to care for our patients, loved ones and community members, and like all of us, are making sacrifices to help respond to this pandemic." said Dr. Victoria Lee, Fraser Health president and CEO. "While transmission continues in our communities, we must remain vigilant in all areas to ensure we are all doing our part to keep our loved ones safe, particularly those in vulnerable populations."
The Province's four-phase COVID-19 Immunization Plan is key to the COVID-19 response. To help keep our communities safe as we work to implement the plan in our region, we ask people to continue to do their part in helping prevent COVID-19 transmission by following public health guidance. This includes washing your hands, staying home when you are sick, physical distancing, wearing a mask in indoor public spaces, limiting social interactions, and avoiding non-essential travel.
It is critical people in our region use the COVID-19 assessment tool and get tested as soon as even mild COVID-19-like symptoms appear. Please don't wait to get tested, as our test collection centres are open and have ample availability for testing. Book an appointment or drop by one of the test collection centres, which are operated in partnership with local Divisions of Family Practice.
People who have tested positive can complete a contact tracing form available on the Fraser Health website, which can be completed from their smartphone, tablet or computer. Those who do not have access to the online form will still receive a call from Public Health to obtain the same information needed for Public Health to begin case and contact management.
To support our contact tracing efforts, on February 1, Fraser Health launched a new texting platform to initiate the contact tracing process with members of the public who have tested positive for COVID-19 when we have been unable to reach them by phone.
Learn more
For information on test collection centres and to book an appointment, please visit our Testing page.
Visit our COVID-19 vaccine page for more information on COVID-19 vaccines.
For media inquiries, please contact:
media@fraserhealth.ca