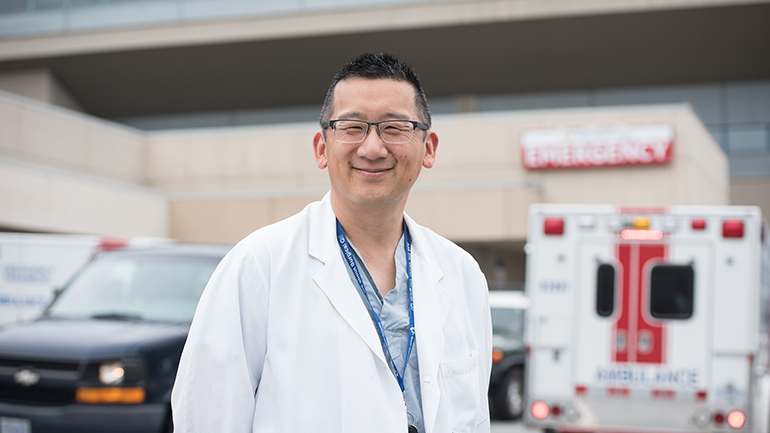 The 2020 list of Meritorious Hospitals is out; Royal Columbian Hospital receives top honours.
Royal Columbian Hospital is one of 90 North American hospitals to recently gain international recognition for its efforts to improve surgical care outcomes for patients.
The American College of Surgeons National Surgical Quality Improvement Program (ACS NSQIP) recognized three B.C. hospitals in its recently-released list of hospitals to achieve meritorious outcomes. Mount Saint Joseph in Vancouver and Royal Jubilee in Victoria also received top marks.
"Being recognized in this way speaks to the tremendous teamwork, from surgeons to nurses, anesthesiologists, perioperative and pre-operative staff, housekeeping and so many others who are providing high quality surgical care and improving outcomes for patients," says Dr. John Hwang, Royal Columbian Hospital NSQIP Surgery Champion.
All Fraser Health sites are required to track the outcomes of inpatient and outpatient surgical procedures and collect data that assesses patient safety, and can be used to direct improvement in the quality of surgical care.
"To achieve NSQIP recognition during the pandemic when hospitals globally have reduced surgeries, is a testament to strong, focussed leadership and a commitment to excellence," says Dr. Dave Williams, Executive Medical Director, Quality and Safety, Fraser Health.
All 11 of Fraser Health's surgical hospitals participate in the ACS NSQIP. Each participating hospital has a dedicated Surgical Clinical Reviewer who collects data, and a Surgeon Champion who leads quality improvement efforts.
The hospitals then review data from semi-annual and online reports which help them identify how they may be underperforming. Quality committees use those findings to improve care.
Royal Columbian Hospital was recognized in the "all cases" and "high risk" categories for outcomes in the areas of mortality, cardiac, respiratory (pneumonia), unplanned intubation, ventilator for more than 48 hours, renal failure, surgical site infection and urinary tract infection.
Williams says the achievement is an example of our commitment to provide better health and the best in health care. "It shows that we are continuing to excel and it is my hope that we can do even greater things next year."
For media inquiries, please contact:
media@fraserhealth.ca