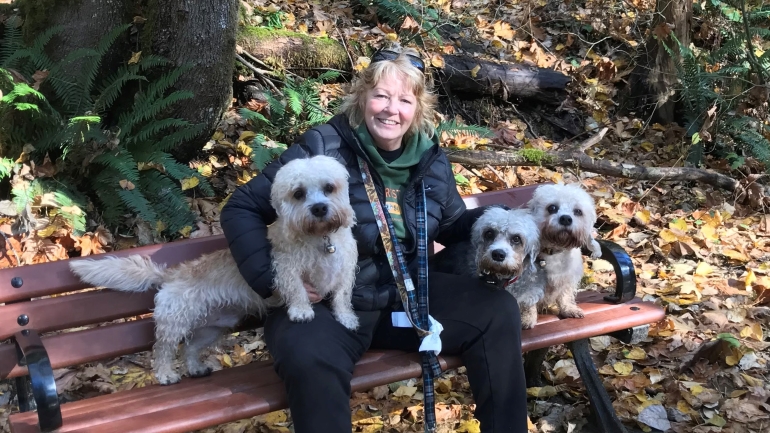 Dedicated volunteer Heather and her therapy dogs provide many happy tales at Baillie House, Ridge Meadows Hospital. Learn about Heather and celebrate her efforts during Volunteer Week.
"To see the patients and residents smile when they see the dogs is just amazing. I can tell by the dogs' reactions when we pull into the parking lot that they look forward to it."
Regular visits from therapy dogs provide gentle companionship and can help lower anxiety in residents and patients. The sweet demeanor and unconditional love of therapy dogs can have a therapeutic benefit to those who face difficult health challenges. The dogs are screened and trained by pet therapy teams that visit in the hospitals and care homes.
Heather VanOene, a Code K-9 Volunteer at Baillie House in Maple Ridge, lives by her motto: "If you can make someone's day better, why wouldn't you do that?"
She and her two Dandie Dinmont Terriers, Geordie and Emmylou, have been volunteers at Ridge Meadows Hospital since November 2019 and also visit with the Adult Day Program at Ridge Meadows Hospital where they entertain the participants with their tricks.
"It's good for the dogs and it's good for the patients," shares Heather. "I come out of there feeling that I made someone's day."
She remembers the day one of the residents met Geordie. "Her eyes lit up," she said. "They sat down on a couch together and it was like they were having a conversation. Moments like these are exactly why we do this."
During the pandemic, Heather got creative to keep these important connections going. She coordinated virtual visits and sent photos of Geordie and Emmylou to share with the residents.
"Even though it was virtual, it was like the dogs were there. You could tell the residents missed having the dogs around, some of them would even reach out and touch the iPad screen. It was really heartwarming to see, says Heather."
While residents enjoy the dogs, our health care teams appreciate our volunteers. "Heather is always willing to step up and help out where needed," says Nancy Young, volunteer resources manager at Ridge Meadows Hospital.
This past December, Heather set up all of the Christmas lights in the Baillie House courtyard for the residents to enjoy. Most recently, she led the clean-up of the Baillie House gardens.
"I know that the residents visit the courtyard occasionally, so it was meaningful for me to decorate this space. It's about making someone's day and bringing joy to them."
The week of April 25, 2022 is Volunteer Week. Take the time to thank volunteers and auxiliary members at Fraser Health and read more volunteer stories at fraserhealth.ca/volunteering.
Interested in volunteering at Fraser Health? Learn about opportunities at fraserhealth.ca/volunteer.
For media inquiries, please contact:
media@fraserhealth.ca