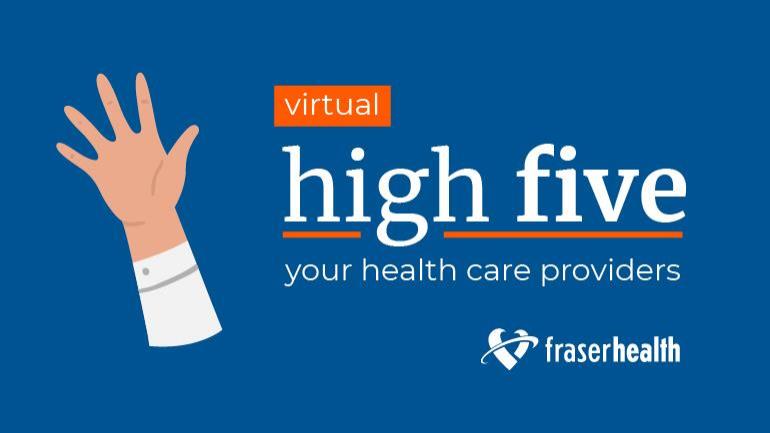 This week's high fives go to our amazing people at Burnaby COVID-19 Testing and Immunization Centre, Delta Hospital, Home Health, Langley Memorial Hospital, and Ridge Meadows Hospital.
Want to send a high five to your health care provider or Fraser Health team member? Leave a comment below or send us your story here.
---
For Home Health
Thank you for going above and beyond while dealing with one of our palliative family members. The team in Home Health had her assessed quickly and were able to honor her wishes. We will be forever grateful.
---
For Burnaby COVID-19 Testing and Immunization Centre
I am writing today wishing to acknowledge the wonderful work that Public Health Nurse Joni performed with my daughter last summer. Thank you so much.
---
For Langley Memorial Hospital
I went to the Emergency Department. I was in and out in one hour. Just wanted to give a shout out to the triage nurses, my nurse and doctor. They were all very friendly. No one likes going to the hospital, but staff like them make things a little easier. Cheers to you, Langley Memorial Hospital Emergency Department.
---
For Ridge Meadows Hospital
Just wanted to say how grateful and appreciative I am to the nurses and physicians at Ridge Meadows Hospital that provided such stellar care to my family member recently. It was very evident that the medical staff and doctors were very collegial, patient-centred and professional, despite the extreme busyness that day. I will be forever thankful that my dad's end-of-life happened in the most peaceful and respectful manner.
---
For Delta Hospital
My husband had surgery at Delta Hospital. I just want to thank all the nurses and doctors who took such amazing care of him. Even when I was waiting for him, the nurses were so kind and asked if I was doing okay. They were all so caring. Thank you staff at Delta Hospital. My husband and I appreciate your kindness and compassion.