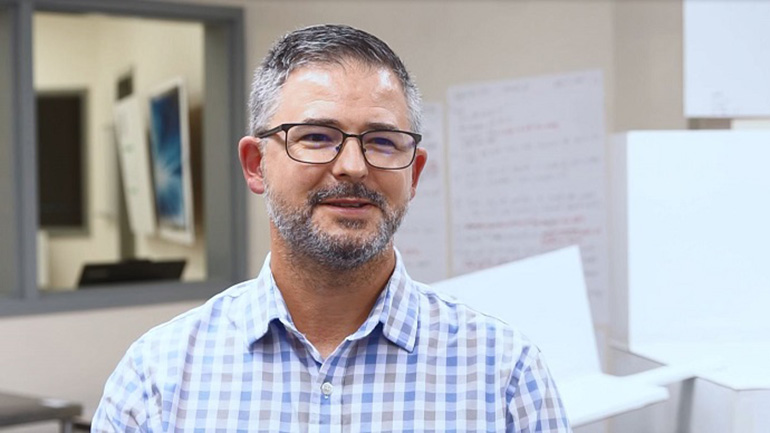 Dr. Joel Gagnon, a vascular surgeon at Royal Columbian Hospital, speaks with pride about the entire floor of interventional services that will be part of the new acute care tower now under construction.
"It's going to be one of the biggest interventional floors in the province," he says. "Most hospitals only have one interventional room in the OR, but we will have three."
The entire second floor of the tower will be an interventional platform for treating patients. It will have operating rooms, three interventional suites, pre and post surgical support and post anesthetic care. In total, the building will have three cardiac ORs, three hybrid ORs, 11 general ORs and eight interventional rooms.
"We really need this in terms of treating more patients with vascular disease," says Dr. Gagnon. "We know that the population is aging. Diabetes is increasing. We know we will see so much more cardiovascular disease in the next few years so we need more beds. We need more access to intervention rooms."
Currently, interventional services are located in various parts of Royal Columbian. Having them together on one floor will not only improve care for patients, it will help increase collaboration and make processes more efficient for staff and medical staff. Everything will be in close proximity so there will be improved flow as the patient is able to receive pre- and post- op care all on one floor. In the event of any complications during a procedure, other teams will be nearby to help.
"Working in an environment like that, it's more collegial," says Dr. Gagnon. "We can share our experiences with each other in different areas because we're going to be so close to each other."
"It will be an exceptional place to work."
The Royal Columbian Hospital redevelopment project is a multi-phase project that will transform all aspects of the hospital and increase the number of beds by about 50 per cent.
Learn more about the project on our website.
Interested in working with the team at Royal Columbian? Visit our careers page.
Photo: Dr. Joel Gagnon in a full-scale model of an operating room in the new tower.