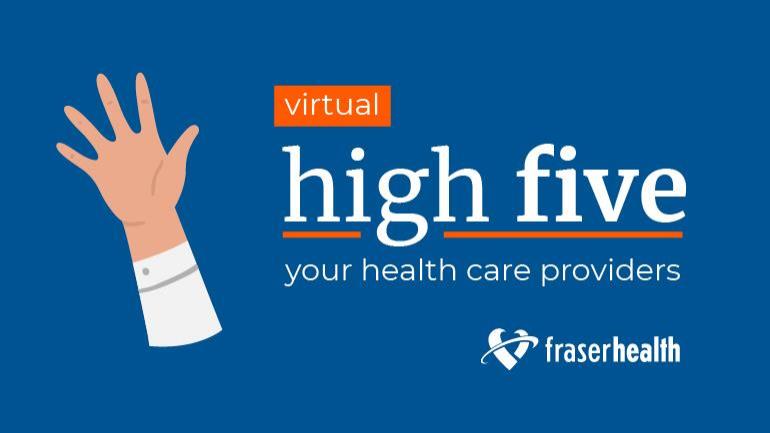 This week's high fives go to our amazing people at Burnaby Hospital, Victoria Heights Pulmonary Rehabilitation Program, Langley Memorial Hospital, Eagle Ridge Hospital, Abbotsford Regional Hospital, Surrey Memorial Hospital, Peace Arch Hospital, and, Royal Columbian Hospital.
Want to send a high five to your health care provider or Fraser Health team member? Leave a comment below or send your thanks using our online submission form. Read more kudos at fraserhealth.ca/highfive.
---
For Burnaby Hospital
My husband had three appointments with Dr. Yu. We were impressed with the timely appointments and the professional attention given to my husband. Dr. Yu was able to make my husband feel relaxed with his good sense of humour. I wanted to give the Burnaby Hospital Pain Clinic a pat on the back for a job well done.
---
I attended a care conference organized by Burnaby Hospital. Bal in social work, Romie, the charge nurse, Stacey the operational therapist, Dr. Thompson and the client were present. The team was so caring, attentive and client focused in their approach. It was heartwarming and reminded me why we work in health care. Keep up the amazing work.
---
Would like to comment on the excellent care I received from the following nurses: Knish, Lilian and Jen. They were very professional, polite, listened to what we had to say and were consistently checking in on us. Excellent job. Keep up the good work.
---
For Victoria Heights Pulmonary Rehabilitation Program
I recently completed an eight week clinic at this location. Highest praise for Angela, Dalia and Devin for their positive manner, informative sessions and regimen of exercises which has made a huge difference to my stamina and breathing capacity for bronchiectasis. This clinic really made a life changing difference for me. I am so thankful to have been referred to it and know help is available.
---
For Langley Memorial Hospital
Dr. Alex in Zone 3, along with the nurse on shift with him (missed her name), were amazing! Although my son's injury ended up being just minor, nobody (from check in, through X-Ray and final diagnosis) ever made us feel like we were wasting their time. Overall a great and quick visit!
---
I had a wonderful experience in the MRI department. Jennifer and Jill took great care at alleviating my anxiety and answered all my questions. The atmosphere was calming. Thank you Jennifer and Jill for being patient and kind all with a wonderful sense of humour.
---
For Eagle Ridge Hospital
I just wanted to thank everyone on the surgical floor. I had a procedure and the entire team - every nurse and doctor - was amazing. They were so sweet, supportive and caring. They made my experience much less scary (it was my very first surgery). Thank you for making me feel cared for. I appreciate you all.
---
Thank you Eric in the CT room who greeted me and all the other patients with a very positive and friendly attitude, making the procedure as pleasant as possible. There were other patients ahead of me and they all left the CT room with a smile on their face.
---
For Abbotsford Regional Hospital
I'd like to thank everyone who assisted me and offered advice. I was very impressed by their kindness, consideration and conversations.
---
For Surrey Memorial Hospital
Katherine and Samuel in the MRI were fantastic. Katherine got me calm and made me feel safe while inserting my IV. I have tiny veins and it's been challenging in the past getting needles but I barely felt Katherine's IV. Best experience under the circumstances, thank you.
---
I recently was a patient in the Emergency Department in September. Despite the wait, I was left feeling respected and treated with compassionate care. The nurse, Marina, was kind and calming. She managed to keep me smiling through pain and held my hand. Her professional and kind care supported me in my most vulnerable time. I am forever thankful.
---
For Peace Arch Hospital
I visited Peace Arch Hospital and was very pleased with the wonderful health care team and the care they provided. Nurse Manreet and Dr. Chernenko were especially caring and attentive. Thank you to them and the entire team.
I would like to thank all the staff for their kindness and professionalism in the Emergency Room. I received excellent care from Dr. Clark and all of the nurses and staff. Thank you.
---
For Royal Columbian Hospital
My husband and I visited Royal Columbian Hospital after I had been experiencing some pains. Dr. Vadeanu took the time to not only listen to our concerns but validate them. I was blown away by his level of validation. We felt that he had been so genuinely compassionate.