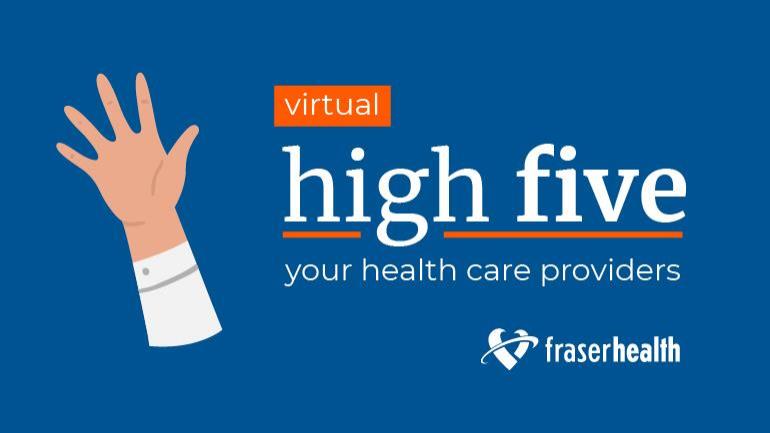 This week's high fives go to our amazing people at Abbotsford Regional Hospital, Chilliwack General Hospital, Eagle Ridge Hospital, Langley Memorial Hospital, Peace Arch Hospital, Ridge Meadows Hospital, Royal Columbian Hospital and Surrey Memorial Hospital.
Want to send a high five to your health care provider or Fraser Health team member? Leave a comment below or send your thanks using our online submission form. Read more kudos at fraserhealth.ca/highfive.
---
For Abbotsford Regional Hospital
Thank you to Nurse Lana who not only helped us prep for surgery, assisting in the surgery and she was also there to helping post partum. Lana was knowledgeable, kind and encouraging. She made our birth experience wonderful and we're grateful for her.
---
I was very afraid and nervous for my mammogram and ultrasound appointment; I had tears welling in my eyes. Dawn, the nurse in the mammogram department was very assuring and gentle. She calmed me down and talked me through the whole process. She was a superstar in my books!
---
For Chilliwack General Hospital
The Emergency Room staff, nurses, doctors, porters and X-ray technicians were all amazing. They took such great care of my young son and made the entire experience a positive one. We could feel that they genuinely cared for us. Thank you so much for everything you do.
---
For Eagle Ridge Hospital
I received the best care form the staff in the Emergency Department. Each health care worker was very kind, supportive and did everything they could to help and comfort me Thank you so very much for such outstanding staff.
---
For Langley Memorial Hospital
I arrived at the hospital after a bad fall. I was treated, received x-rays and prepared for upcoming surgery very quickly. Thank you to the second floor pre-operative and post-operative unit, the doctors and surgical team for taking good care of me. Finally thanks to the occupational and physical therapists for making a return home quick and easy.
---
Thank you so much to the staff who looked after me during my ultrasound breast biopsy and mammogram. The staff in the mammogram department were very kind. If it wasn't for all of you, I would have run away without having the test. Thank you.
---
Thank you to the excellent staff that I encountered, especially Dr. Anthony. He was kind and compassionate and now I am all better and able to go on our trip.
---
For Peace Arch Hospital
Thank you to the amazing Emergency Department staff at Peace Arch Hospital. You cared for me with excellence, compassion and great skill. A special thank you to Merta, a nurse I will always remember. We are blessed beyond belief to have such a high-quality team of professionals, ready at a moment's notice to comfort, reassure, heal and restore. Thank you.
---
For Ridge Meadows Hospital
I just wanted to give a shout out to all staff who work in the Cataract Surgery Outpatient Ward. My mother had both her eyes done last year. I was absolutely amazed at the staff who so diligently carried out their duties so professionally, so quickly all with a big smile. Managing so many people coming in and out while keeping everything so clean. Everyone was so kind, thank you.
---
For Royal Columbian Hospital
Thank you for seeing me in triage and having care and compassion for treating my painful condition on. You are very kind and made me feel at ease during my treatment.
---
I would like to commend a few nurses who took care of my mother during recent stays. Shivani, Lina, Jovy and Caitlin. They all provided excellent care, with wonderful communication and tone while being very compassionate.
---
I wanted to give a big shout out and say thank you to all the staff in the Nuclear Medicine and Cardiology departments. I had visited for a Myocardial Perfusion Imaging test and was quite anxious and nervous. That was quickly eased by the staff that took care of me. They all introduced themselves, were patient, calm and made sure I knew what was happening. It was a great experience!
---
For Surrey Memorial Hospital
We came to the hospital to have our first child. Every person we interacted with was exceptionally kind and knowledgeable. From the security guard who showed us where to go, to the triage nurses, and Dr. Coll and his amazing team. Throughout the labour, delivery and after-care we felt completely confident in the medical team caring for us. I cannot say enough good things about Dr. Coll! Thank you.
---
During our visit to the hospital we encountered the best nurses: Shab, Christina, Gurleen and another Christina. They were very compassionate and hard working while always being caring and kind.
---
Thank you to all the Emergency Department staff for your kindness and care. Please know you are valued. I came away having lots of test done and doing much better knowing I was taken care of. Thank you.