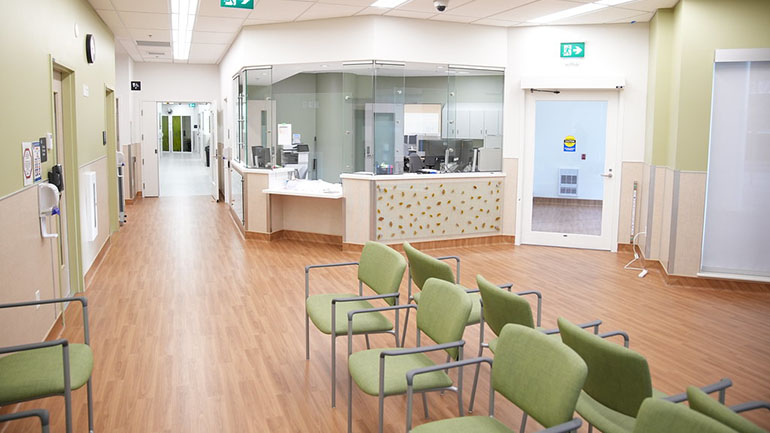 People living in Burnaby-Metrotown will benefit from increased access to team-based primary care with the official opening of a new urgent and primary care centre (UPCC) at Unit 102-4555 Kingsway on Tuesday, Nov. 1, 2022.
"We know access to timely health care is a top-of-mind issue for people living in British Columbia," said Adrian Dix, Minister of Health. "Today's announcement represents a significant step forward in meeting our commitment to building a modern, team-based primary care system that ensures all people in B.C. receive the care they need when they need it most."
Once fully staffed, the centre will provide full service primary care with approximately 23.2 full-time-equivalent health-care workers, including family doctors, nurse practitioners, nurses, social workers, clinical counsellors and clinical pharmacists.
The centre will serve two purposes: the first is to provide urgent primary care services to people living in the community who need to see a health-care provider within 12 to 24 hours, but do not require an emergency department. Examples of this provision are services for individuals with minor cuts or burns, headaches, sprains and those experiencing mental-health and substance-use challenges. As of Nov. 1, 2022, urgent care will be available from 9 a.m. to 8 p.m., seven days a week.
The second purpose is to help attach residents to regular primary care providers in the community for their long-term, planned primary care, while continuing to provide ongoing care for unattached residents. Long-term, planned primary care will be available 9 a.m. to 4 p.m., Monday to Friday once all staff have been hired.
"We know people in Burnaby and the surrounding communities can face challenges finding access to health care when they need it most," said Anne Kang, MLA for Burnaby-Deer Lake. "I am proud that our government is taking bold action to ensure everybody in our province has access to the care they deserve from a team of dedicated health-care providers."
Fraser Health will operate this UPCC and will collaborate with the Burnaby Division of Family Practice to integrate the UPCC into the Metrotown Primary Care Network (PCN).
This is the 29th UPCC announced under government's primary-care strategy and the seventh in the Fraser Health region. Other UPCCs in the region include two in Surrey, and one each in Burnaby, Maple Ridge, Port Moody and Abbotsford. Since opening, the North Surrey, Burnaby Edmonds, Ridge Meadows, Abbotsford, Port Moody and the Surrey Newton UPCCs have cumulatively reported more than 228,000 patient visits.
People in need of support for complex and chronic conditions, including mental-health and substance use supports, will have better access to the right care from the right provider with improved connections to specialized services provided by the health authority.
This is a part of government's work to make it easier for people to access health-care services. In August, in partnership with Doctors of BC, the Province announced $118 million for family doctors to help patients get continued care. The Province is also working on a new physician master agreement and a new compensation model, as well as implementing a health human resource strategy.
Learn More:
Two backgrounders follow.
Backgrounders
New urgent and primary care centre in Metrotown
The Metrotown UPCC will feature improved access to care through extended weekend and evening hours.
The centre is expected to open seven days a week, 365 days per year, including statutory holidays.
People can self-refer for their urgent and primary care needs. People can also be referred by community service providers, other health-care professionals and agencies.
People can also schedule appointments. During busy periods, appointments will be prioritized based on urgency.
The UPCC will be approximately 696 square metres (7,491 square feet) and will include two consult rooms, six exam rooms, one group therapy and education room, a triage/assessment room, along with additional areas for office administration and collaborative workspaces.
UPCCs are part of a comprehensive provincial strategy to transform B.C.'s health system by co-ordinating teams of health-care providers, services and programs to make it easier for people to access care, receive followup care and connect to other services they may need.
What people are saying about UPCCs
Raj Chouhan, MLA for Burnaby-Edmonds –
"I am truly grateful to represent a government that is so committed to ensuring British Columbians across the province have access to team-based primary care when and where they need it. The people of Burnaby, Edmonds and Greater Vancouver will soon benefit greatly from the new urgent and primary care centre in Metrotown."
Katrina Chen, MLA for Burnaby Lougheed –
"People in Burnaby and surrounding areas need improved access to primary care close to home. The new Urgent and Primary Care Centre in Metrotown will help fill this need and is an important step in delivering on the promise of a stronger, more accessible health-care system for us all."
Janet Routledge, MLA for Burnaby North –
"This is great news for people in the community. Our government is taking action to provide even more access to public health-care services and Metrotown UPCC will help those who need it."
Dr. Victoria Lee, president and CEO, Fraser Health –
"I am pleased to celebrate the opening of our new Urgent and Primary Care Centre. This UPCC will enhance access to urgent care services for Burnaby residents and connect people to community services and care providers who will work together to provide a holistic, culturally safe approach to care. Across our region, our existing urgent and primary care centres are seeing growing success in providing timely care to clients. With the opening of the Metrotown UPCC, we will work with our partners to expand access to urgent care and connect people to longitudinal health services, empowering people to stay healthy and active."
Dr. Birinder Narang, chair, board of directors, Burnaby Division of Family Practice –
"The Burnaby Division of Family Practice, Fraser Health and our community and municipal partners have a strong history of providing access to our patients. The Edmonds Urgent and Primary Care Centre shows how collaboration can serve patients' needs in an integrated fashion. We look forward to working with the Metrotown UPCC through our Primary Care Network to serve patients' increasing complexities while minimizing barriers to access."
Dr. Peter Barnsdale, regional medical director, Primary Care Integration, Fraser Health –
"We are delighted with the opportunity to expand the UPCC network in Metrotown, providing more residents in the Fraser Health region urgent care services in the neighbourhoods where they live, work and recreate."
Michael Sandler, CEO, Association of Nurses and Nurse Practitioners of BC –
"Nurses and nurse practitioners of B.C. are pleased to see that the knowledge, skills and expertise of the entire health-care team will be utilized to improve access to health care for all British Columbians through urgent and primary care clinics. We believe that this approach will be pivotal in ensuring B.C. families can access health-care services, and we are excited to see the opening of another urgent and primary care clinic in B.C."
For media inquiries, please contact:
media@fraserhealth.ca