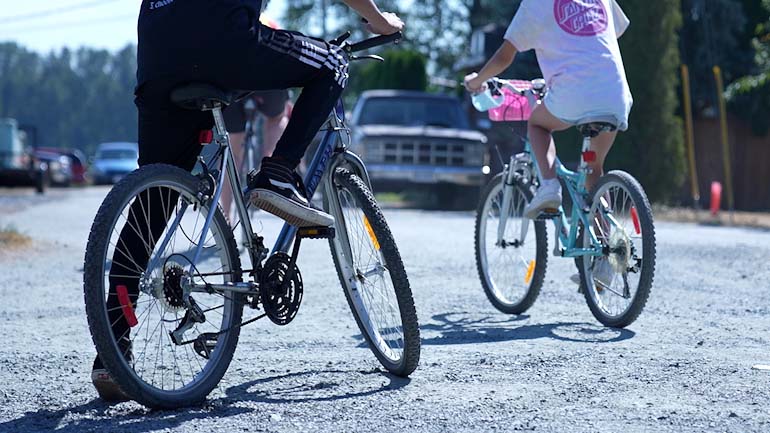 Cycling program equips Indigenous youth with bicycle skills, equipment and road safety awareness to support health and community connections.
Supported by a grant from Fraser Health as part of the Vision Zero program, HUB Cycling and the Katzie First Nation are collaborating on a specialized cycling program to mentor Indigenous youth on bicycle maintenance, bicycle safety, and accessing the broader region by bike.
Vision Zero aims to reduce injuries for vulnerable road users by implementing road safety education and measures.
"The Vision Zero grant helps address one of our objectives in public health to promote healthy physical activity," says Tobin Copley, Injury Prevention Lead, Environmental Health. "We are supporting a program where kids get enthused about cycling, exploring their community, being independent and becoming more physically active."
The Katzie First Nation youth community safe cycling project equips Indigenous youth participants with the skills, equipment and road safety awareness to enable them to cycle as an enjoyable way to explore and connect with their community.
The project also received donations from the Rotary Club for Pitt Meadows and Maple Ridge and Cross Canada Cycle Tour Society, as well as bike donations sourced by Pitt Meadows and Maple Ridge HUB Cycling Committee members.
"The motivation is to help youth connect with where they live and with each other while improving their riding skills, confidence, ability to move in their community and safety knowledge," says Rose Gardner, Director of Bike Education, at HUB Cycling.
Older youth leaders from the Katzie First Nation work with HUB Cycling instructors to teach the younger participants how to cycle safely and then lead them on a series of rides around their community.
The youth participants identify locations in their community where they want to ride their bikes and work with the older youth leaders to map the routes.
"The community response has been positive, and we have filled all our spaces through word-of-mouth," says Megan Florence, Youth Coordinator, Katzie First Nation. "All participants are excited, especially since they get to keep the bikes. They will remember this program forever."
Get a glimpse of the Katzie First Nation youth community safe cycling project: