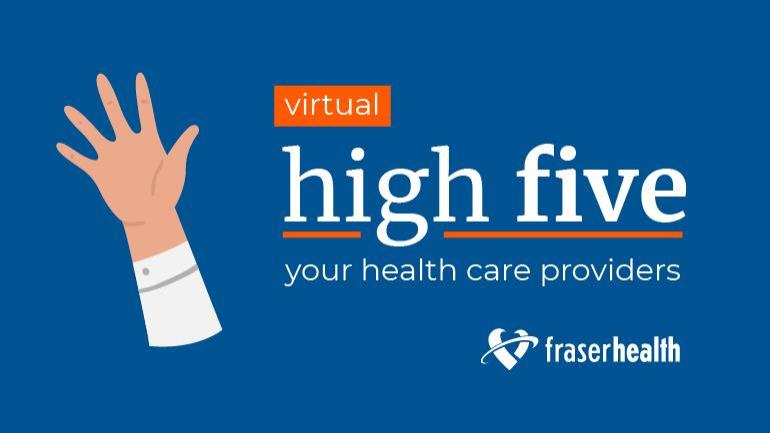 This week's high fives go to our amazing people at Burnaby Hospital, Eagle Ridge Hospital, Jim Pattison Outpatient Care and Surgery Centre, Queen's Park Care Centre, Ridge Meadows Hospital, Royal Columbian Hospital and Surrey Memorial Hospital.
Want to send a high five to your health care provider or Fraser Health team member? Leave a comment below or send your thanks using our online submission form. Read more kudos at fraserhealth.ca/highfive.
---
For Burnaby Hospital
Thank you to the staff in the Emergency Department at Burnaby Hospital. Nurses Melissa and Hayley and Dr. Deng treated me with patience and kindness despite a busy night. Dr. Deng even called me a few days later to check on my condition, answer questions and took notes on any new symptoms for the next physician. Thank you to the staff who made the best of a very scary experience.
---
For Eagle Ridge Hospital
I would like to compliment Dr. Brown at Eagle Ridge Hospital who provided above-and-beyond care. Dr. Brown patiently provided care for my injury while being very polite and professional. Keep it up, Dr. Brown, and thank you again for your help – it was greatly appreciated.
---
I came by ambulance after a fall and ankle injury. All of the staff were excellent, from the X-ray technician to the nurses, to the porter who transported me to my X-ray. A special thank you to Dr. Chan who took great care of my injured leg.
---
For Jim Pattison Outpatient Care and Surgery Centre
I would like to compliment Dr. Grant. He was meticulous, polite and most importantly, he was considerate. He worked hard to accommodate me within his busy schedule. I am grateful for the care he provided.
---
For Queen's Park Care Centre
Commendations for the clerk Sabrina who helped us fill out paperwork. Thank you.
---
For Ridge Meadows Hospital
I have been getting iron infusions at the hospital for almost six years. The staff in the IV Therapy Unit have always been absolutely, positively amazing. They are all extremely kind, knowledgeable, understanding and caring. They make the experience much more comfortable. I can't say enough good things about these wonderful people. I am extremely grateful for all that they do.
---
For Royal Columbian Hospital
Thank you to Dr. Khan and his team who made me feel totally relaxed during my operation. A big thank you also to the nurses and staff in the Cardio Recovery Ward for their care and humour.
---
For Surrey Memorial Hospital
My mother was recently admitted after an incident with her motorized scooter. She wanted to express her gratitude to Nurse Inder and Student Nurse Daniel who went above and beyond. The entire team of physiotherapists, nurses, students and doctors were all incredible, patient and kind.
---
I recently spent time in Surrey Memorial Hospital for a procedure. I wanted to commend the nursing staff, in particular Michaela, Nav, Sandy, Jas and Hayley. The nurses were not only professional and proficient, but it was evident they care deeply for their patients and want to do everything possible to assist with their healing and recovery.
I would like to praise Nav for her nursing skills and the most attentive and thoughtful manner in which she does her job. Thank you for your management of a well-run department.
---