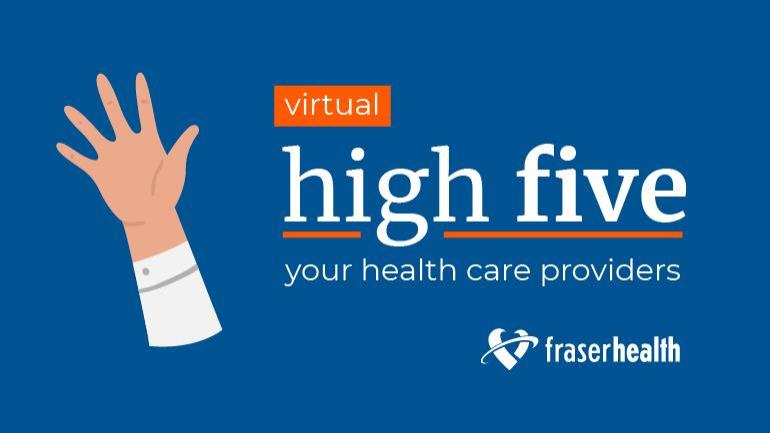 This week's high fives go to our amazing people at Surrey Memorial Hospital, Chilliwack General Hospital, Royal Columbian Hospital, Abbotsford Regional Hospital, Eagle Ridge Hospital, Burnaby Hospital, Ridge Meadows Hospital, Langley Memorial Hospital and Peace Arch Hospital.
Want to send a high five to your health care provider or Fraser Health team member? Leave a comment below or send your thanks using our online submission form. Read more kudos at fraserhealth.ca/highfive.
---
For Surrey Memorial Hospital
I would like to share my deepest gratitude and thanks to an exemplary physician. My brother received exemplary care in the Palliative Care Unit at Surrey Memorial Hospital by Dr. Minhas and her team. He has esophageal cancer and was undergoing a series of cancer treatments. His cancer journey has been difficult and fraught with complications.
From the minute we arrived and were admitted, Dr. Minhas provided clear, consistent, compassionate, patient-centred care. Her clinical assessments were efficient, effective and her excellent knowledge in complex pain was clear. She diagnosed several issues immediately and treated them with ease. My brother received urgent spine surgery which she coordinated, urgent radiation treatment and amazing pain relief. He had been struggling for months prior to this and losing hope, function and dignity.
With Dr. Minhas' reassurance, involvement and exceptional care, my brother has continued with his cancer treatments, he is walking without pain and engaged in his family once again. We cannot thank her and the team enough.
---
For Chilliwack General Hospital
I spent several days in the hospital after surgery on my arm. Erin and all the staff were indescribably awesome. The care, attention and professionalism were something words can't possibly express effectively. I am incredibly grateful for all their hard work.
---
For Royal Columbian Hospital
I wanted to thank all the health care workers who I came in contact with during my stay at Royal Columbian Hospital – the nurses, anesthesiologists, Dr. Ivanishvili and his neurology team and recovery team. I am grateful for the care that the staff provided so that I am healthy and back with my family post-surgery.
---
For Abbotsford Regional Hospital
I want to thank and recognize Brooklyn and Taylor from the Abbotsford Maternity Ward. They helped me through my labor by being attentive and caring. They really helped make it a positive experience. In addition, all the other nurses we saw over the course of our stay were amazing as well. Thank you all.
---
For Eagle Ridge Hospital
I just want to thank all the staff for making my surgery as pleasant an experience as possible. Everyone was efficient, professional and caring. I was pleasantly surprised at how streamlined and efficient everything was done. Thanks to all health care workers for being there for all of us and doing it so well.
---
For Burnaby Hospital
I wanted to acknowledge Nurse Navneet, who was friendly and made me feel calm while I was being treated at the hospital. She was understanding, patient and helpful when I needed support. Thank you for making a scary situation so much better.
---
Thank you to the nurse who wears rainbow-coloured Crocs. She was excellent, professional and cares about her patients. I give her five stars.
---
For Ridge Meadows Hospital
Andrea from the Medical Records Department is an absolute rock star. She diligently gathered all the details and ensured I was transferred to the correct department. Thank you Andrea.
---
For Langley Memorial Hospital
I would like to thank Dr. Soswa and all the wonderful nurses, care aids, physiotherapist and occupational therapist I saw during my time at Langley Memorial Hospital.
---
The staff in the outpatient lab are very kind and helpful. Recently, Alyssa went above and beyond sorting out a requisition discrepancy. Thanks to all for making my frequent visits less stressful.
---
For Peace Arch Hospital
A very special thank you to all the doctors and staff in the Emergency Department for the kind and professional care that I received. Thank you to everyone.
---