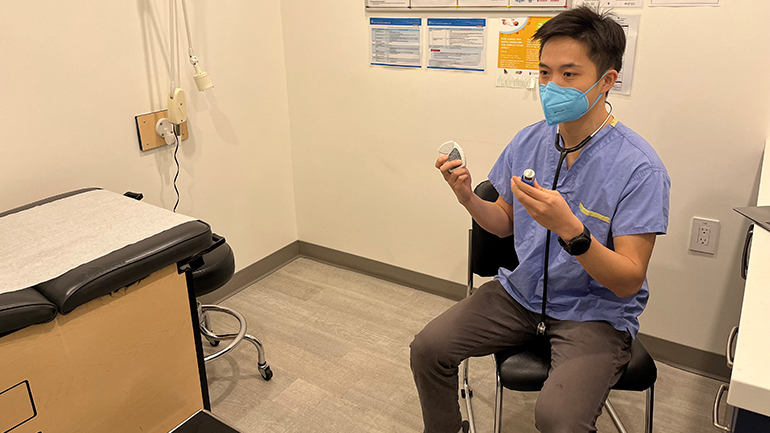 As someone who lives with asthma, Sandra Ketler relies on inhalers to reduce inflammation in her airways and deliver medication to her lungs.
Photo: Dr. Kevin Liang, family physician and researcher with Fraser Health's Population and Public Health team
Until recently, Sandra was unaware that every dose from her inhaler contains greenhouse gases that contribute to climate change.
"My initial concern was about the plastic waste from inhalers. As a volunteer patient advisor, I was shocked to find out about the full impact of inhaler use on the environment," Sandra says.
A Fraser Health-led study in the BC Medical Journal found that between 2016 and 2021, inhalers produced 8,478 tonnes of carbon dioxide in the Fraser Health region alone. Put into perspective, the carbon footprint from inhalers is equivalent to about 22 per cent of all emissions from Fraser Health facilities, which includes 174 buildings with 13 acute care hospitals.
The carbon culprits are liquefied gases called hydrofluoroalkanes (HFAs), which are present in one type of inhalers – pressurized metered-dose inhalers. HFAs deliver medication to the lungs and, in the process, release greenhouse gases into the atmosphere. Low-carbon HFA-free alternatives that use dry powder and soft mist formulations are effective for most patients and more environmentally friendly with no negative impact on the health or comfort of patients.
"People with respiratory illnesses need inhaler medication," says Dr. Kevin Liang, a family physician and researcher with Fraser Health's Population and Public Health team. "The problem is, propellants used in metered-dose inhalers for asthma and chronic obstructive pulmonary disease have a large climate footprint. For example, one blue inhaler of Salbutamol can have the equivalent climate footprint of a 139-kilometre car trip."
Dr. Liang and the research team found that switching to HFA-free alternatives, which are clinically appropriate for most patients, can reduce the inhaler carbon footprint by up to 78 per cent per year and potentially improve respiratory care.
"Greenhouse gas emissions from the delivery of health care services are a significant contributor to climate change and have negative impacts on the health of our communities," says Darryl Quantz, Planetary Health lead, Fraser Health. "As an organization, we are committed to advancing a low-carbon health system and, as such, are sharing our research to encourage discussion around alternatives to metered-dose inhalers containing HFAs."
A recent survey of Fraser Health residents found that 85 per cent agree or strongly agree that it is important for the health system to reduce its carbon footprint and waste.
For Sandra Ketler, switching to a powdered formulation was easy.
"My asthma is being treated effectively and I feel better knowing that I'm taking a significant step in reducing my carbon footprint," she says.
Learn more
Climate impact of inhaler therapy in the Fraser Health region, 2016–2021 (British Columbia Medical Journal (bcmj.org))