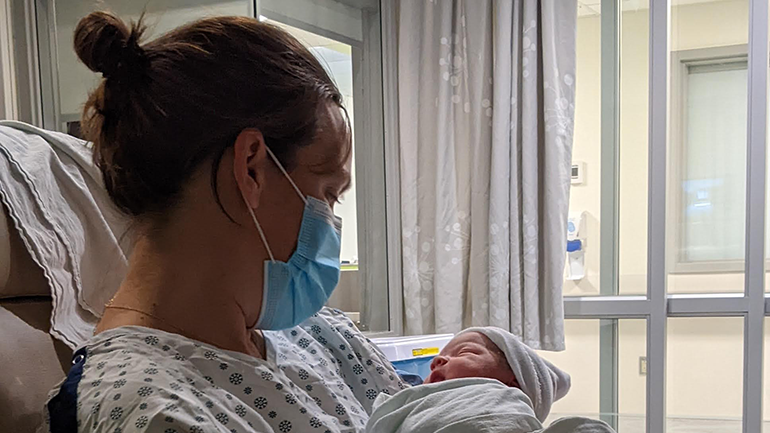 In honour of World Breastfeeding Week, which takes place August 1 to 7, we are sharing the heart wrenching story of a mother processing grief while helping others. This story was originally published on May 19, 2023 by the Provincial Health Services Authority.
BC Women's Provincial Milk Bank donor, Stephanie, tells the story of her daughter, Nell, to help raise awareness and increase donations.
"This is my fourth and final time being a donor for the Milk Bank. I've been blessed with abundant milk for each one of my sweet babies, and have been honoured to be able to share that abundance with others. My older daughters have seen me pump and save milk when their siblings were infants, and they are so happy to know we've been a part of helping other babies get better.
However, I know that not every baby who receives donor milk grows to full health, or gets to go home with their families. We know that not every story has a happy ending, now more than ever. Our last baby, sweet Nell, was born with congenital heart disease, and was only three and a half months old when she died from complications of her illness. Our grief is deep, too deep for words, and our journey through it will be long.
In her final day in the hospital, as we said goodbye, even as we knew that she would never return to health, Nell still received a very small amount of my breast milk by an NG tube. This was not something I asked for, it was simply something that her care team continued to do for her, even though we were all preparing for her death. It was a small gesture on the part of the care team, but it meant a lot to me. She was important and precious, no matter how long her life was.
During Nell's multiple stays at the hospital, I saw other families and babies on their own health journeys, many much longer than ours. Again and again, I felt humbled by how much other people were helping us - everyone at BC Women's, BC Children's and all of our friends and family at home - and how impossible it would have been to go through this without their generosity and kindness. I understand now, with a painful clarity, how vulnerable it feels to ask for what you are not able to give your baby yourself.
It was a mixed emotional moment when I brought in my last donation to the Milk Bank - grief intertwined with gratitude. I miss my baby girl so much, and nothing will take away that pain. But I am thankful to be able to donate milk one last time. I've been given much by others, and in this small way I can give a little to someone else, for the sake of Nell and all the babies who need special care.
My heart goes out to all the families who sit at bedsides, who hold tiny hands, who whisper gentle words, who watch and pray and sing and hope and grieve, and love these little ones who are so precious. I hope this milk donation makes other families feel in some small way a little more supported on their journey."
Make a donation
Less than one per cent of parents who gave birth in 2022 in B.C. donated to the provincial milk bank. Human milk has antibodies and immune factors that help protect babies from short- and long-term illnesses.
The B.C. Provincial Milk Bank serves all 14 Neonatal Intensive Care Units in the province and three additional B.C. hospitals have requested donor milk – Penticton Regional Hospital, Vernon General Hospital and Terrace Hospital.
The Provincial Milk Bank currently has less than an average month's supply and needs several months to meet upswings in demand as well as the fluctuation in donations. Every week the Milk Bank must turn down requests due to lack of supply.
Milk donors are healthy women who have delivered within the past 18 months and have more milk than they need.
Before attempting to drop off milk to any of the 28 milk collection depots across the province, potential donors must complete the screening process and call the depot they plan to use to confirm times and location for drop off.
Prospective donors can get information on milk donation on Fraser Health's website or the BC Women's website or by calling 604-875-3743.