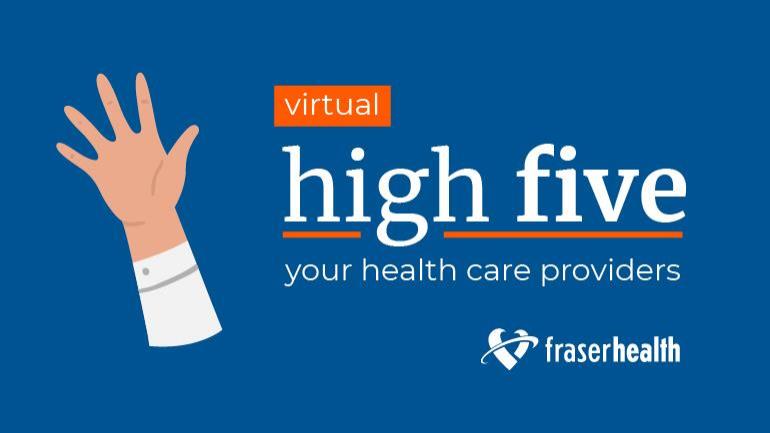 This week's high fives go to our amazing people at Burnaby Hospital, Abbotsford Regional Hospital, Eagle Ridge Hospital, Surrey Memorial Hospital, Ridge Meadows Chronic Pain Management Clinic, Sardis Satellite Laboratory, Port Moody Urgent Primary Care Centre and Jim Pattison Outpatient Care and Surgery Centre.
Want to send a high five to your health care provider or Fraser Health team member? Leave a comment below or send your thanks using our online submission form. Read more kudos at fraserhealth.ca/highfive.
---
For Burnaby Hospital
All the staff at Burnaby General Hospital are incredibly kind. I felt well cared for, thank you.
---
For Abbotsford Regional Hospital
I had surgery at Abbotsford Regional and found the doctors, nurses, aides and volunteers, to be compassionate and caring. They put me at ease during a scary time and they couldn't have treated me better. It was heartwarming to be amongst such wonderful people. I'd also like to send a kudos to the pharmacy.
---
For Eagle Ridge Hospital
I would like to thank and acknowledge the staff in the Day Surgery unit at Eagle Ridge hospital. I recently had two surgeries there, and both times I was treated with kindness, patience and professionalism. I know the pressure our entire health care system is under at the moment but all of the doctors, nurses and support staff were amazing. Thank you for such a positive experience during a stressful situation.
---
For Ridge Meadows Chronic Pain Management Clinic
I attended a course at this clinic and was very impressed. They were able to provide me with new information and I benefited greatly from the one-on-one coaching they provided. My body feels much better now than it did a year ago. I was also quite pleased with the pro-active work that the clinic does to mitigate patients' issues before they become serious and harder to control.
---
For Sardis Satellite Laboratory
I just want to give major credit to Savannah from the Sardis Lab. My young son had blood work and other samples taken. Savannah was quick, kind and efficiently assisted us. Thank you so much, Savannah.
---
For Surrey Memorial Hospital
I've been attending radiation at the hospital for the last several weeks and all the staff have been wonderful. Yesterday I met with Julie for the first time and she was exceptional. I was feeling very fatigued and defeated, but she made me feel uplifted and proud of my progress. Her energy was most welcomed and being around her made me feel happy. Thank you Julie.
---
For Port Moody Urgent Primary Care Centre
Very impressed by this facility and staff. Everyone was efficient, well organized and I was in and out in a short amount of time. Well done Fraser Health, thanks.
---
For Jim Pattison Outpatient Care and Surgery Centre
All of the staff from the admission clerk, nurses, Dr. Nanaya and Dr. Lazare were excellent. The pre-operative nurse Julie did an amazing job putting in the IV. Everyone there made me and my husband feel less anxious about the surgery. Thank you all.
---
I would love to give a huge thank you to the Antepartum Home Care Health team at Jim Pattison Outpatient Care and Surgery Centre for their amazing and attentive care. Jana, Kara and the other nurses were nothing but amazing, kind, and compassionate. They made my husband and I feel at ease with every phone call and home care visit. We greatly appreciate it and can't thank them enough.
---