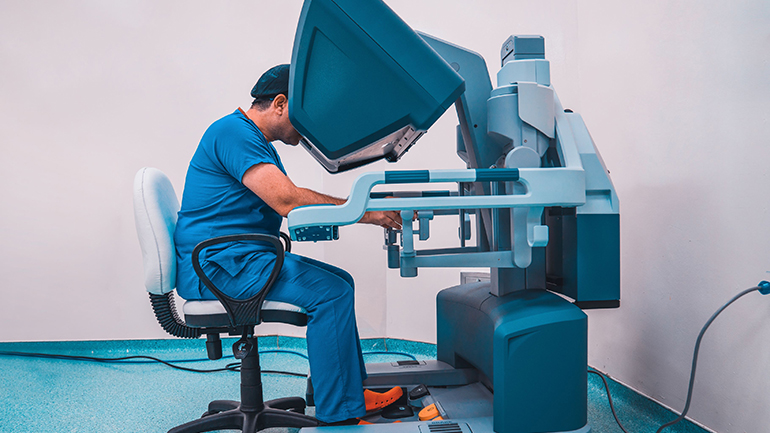 A $9 million robotic surgery program will ensure patients across the Fraser Health region have increased access to cutting-edge medical technology and treatment options.
"The robotic surgery program, which is a first in Fraser Health, will benefit patients by enabling more precise and minimally invasive surgery, leading to less pain and scarring as well as faster recovery times," said Dr. Dave Konkin, regional medical director and regional department head for Surgery, Fraser Health.
The program will operate out of Surrey Memorial Hospital and Royal Columbian Hospital and will be available to all qualified surgeons to help provide patients with the best possible care for many years to come.
Robotic surgery is becoming more common for many surgical procedures, treating both oncological and non-oncological conditions. The process involves a surgeon at a console operating remote-controlled robotic arms that facilitate the performance of laparoscopic procedures.
The first surgical specialties identified to utilize robotics at Surrey Memorial Hospital are ear, nose and throat (ENT) and thoracic, while Royal Columbian Hospital will start with urology. After starting with these three surgical specialties, Fraser Health will then look to expand its robotic surgery program to include others. The program is expected to be operational by Fall 2025.
"Robot-assisted surgery has been proven advantageous in shortening patients' recovery time and I am pleased we will be able to bring this leading surgical technology to patients within the Fraser Health region," said Adrian Dix, Minister of Health. "This investment is a demonstration of our commitment to innovation and patient-centered care and our work to provide surgeons with access to the best tools available. We look forward to the benefits this new program will provide patients and surgeons for many years to come."
"We look forward to seeing our highly-skilled surgeons harness advanced technology to further elevate the standard of care we provide to our patients, and perform certain surgeries with greater precision and minimal invasiveness," said Dr. Victoria Lee, president and CEO for Fraser Health. "The new program at Surrey Memorial and Royal Columbian Hospitals will enable faster recovery times from surgery, allowing our patients to get back to doing the things they love with their families and friends."
"We are delighted that patients at Royal Columbian Hospital will have access to robot-assisted surgery," said Jeff Norris, president and CEO, Royal Columbian Hospital Foundation. "This technology will also help attract and retain top surgical talent and be available in training programs, so medical staff may safely and proficiently use it. We thank our donors for their passionate commitment to bringing innovative treatment options to our community."