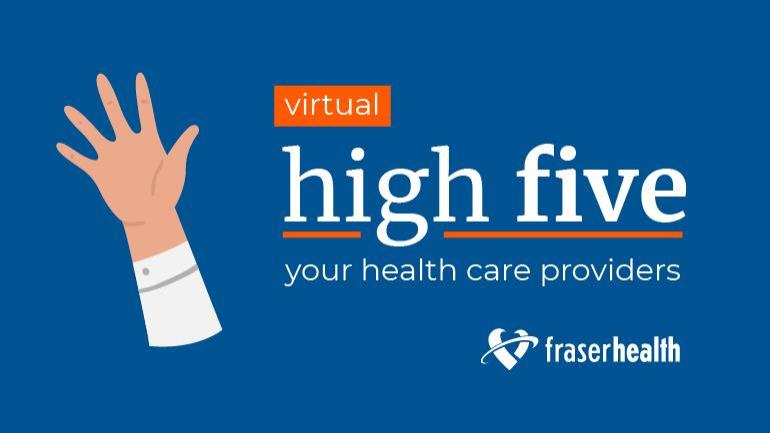 This week's high fives go to our amazing people at Abbotsford Regional Hospital, Chilliwack General Hospital, Delta Hospital, Eagle Ridge Hospital, Langley Memorial Hospital, Port Moody Urgent and Primary Care Centre, Ridge Meadows Hospital, Royal Columbian Hospital and Surrey Memorial Hospital.
Want to send a high five to your health care provider or Fraser Health team member? Leave a comment below or send your thanks using our online submission form. Read more kudos at fraserhealth.ca/highfive.
---
For Abbotsford Regional Hospital
I wanted to thank everyone involved in my care during my two visits to the emergency department. I can't say enough great things about the doctors, nurses, triage and cleaning staff. Thank you for your kind and compassionate care.
---
For Delta Hospital
Thank you to Tracy who performed my mammogram. She was comforting, nice and answered all my questions. Her kind demeanor provided such a relief. Keep up the positive energy and caring attitude Tracy. Thank you again.
---
For Eagle Ridge Hospital
I was recently diagnosed with vertigo. Dr. Lim took the time to provide me with the appropriate physiotherapy documentation which assisted in my speedy recovery and allowed me to quickly return to my normal routines. Dr. Lim is a truly beautiful and much loved human being who emulates kindness, compassion and integrity. The world is a better place with Dr. Lim in it.
---
For Langley Memorial Hospital
Thank you to the Imaging Technician Livia who was simply amazing, efficient and quick. She made my son and I feel comfortable and at ease throughout the procedure. Thank you Livia.
---
For Port Moody Urgent and Primary Care Centre
A huge thank you and kudos to Nurse Practitioner Kalina who is consistently professional and knowledgeable. Thank you for taking amazing care of my daughter. We appreciate how you keep her care needs at the centre of all health related decisions.
---
For Ridge Meadows Hospital
My six year old son recently had an x-ray procedure at Ridge Meadows [Hospital]. I wanted to applaud the Technician Sally who made our experience exceptional. She put my nervous son at ease and her efficient work had us in and out promptly. Thank you Sally for making the whole experience a breeze.
---
For Royal Columbian Hospital
I recently visited Royal Columbian [Hospital] for prostate cancer surgery. I cannot thank the dedicated staff enough for the excellent care that I received. Thank you Dr. Yang and Nurses Nam, Amie and Duggan.
---
Thank you to the many cheerful, skilled and dedicated staff who assisted in my surgery and recovery. I appreciate the excellent level of care you provided.
---
I would like to thank Dr. Tung and his team for their care. I feel like a million bucks and I can finally, after many years, feel my pulse. Thank you to Favia and the staff on the recovery floor. Everyone was kind and professional.
---
I would like to express my sincere appreciation to Dr. Mackenzie, Dr. Li and Nurse Brittany as well as many other nurses who took care of me during my visit. Thank you so much, you are all health care heroes.
---
For Surrey Memorial Hospital
My five year old daughter recently had surgery at Surrey Memorial [Hospital] and all of the staff we encountered were incredible. My daughter had such a great experience that she said she wanted to stay there forever. She even shared that she thought that 'hospitals were really cool.' I was impressed with the level of professionalism and kindness shown by every single staff member we encountered. Thank you.
---
Our family is appreciative of the compassionate and wonderful care that the staff have provided my dad. Consistent, calm and competent care at every turn. The experience has been top rate. Thank you all.
---