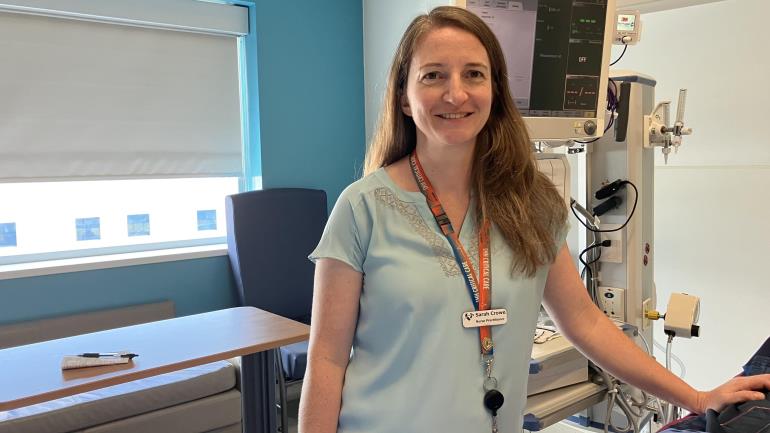 When Sarah Crowe began her nursing career at Surrey Memorial Hospital in 2001, she never imagined it would veer down a path toward research.
"There are questions I've had over the years that no one has answers to and through research, I can create the answers," says Sarah.
Her new role as a Nurse Practitioner (NP) Clinician Scientist allows her to dedicate 60 per cent of her work week to research and the remainder to clinical practice.
"The role is really about advancing nurse practitioner scholarship and visibility, and trying to highlight – in a formalized way – the good work of nurse practitioners in our region," she says.
The clinician scientist designation will give Sarah the ability to mentor other nurse practitioners who may not have the time or space to do research on their own, while at the same time continuing with her own research interests in ICU survivorship; chronically ill and critically ill patients; and supporting the mental health and practice of clinicians.
"I'm very excited to welcome Sarah Crowe to the NP leadership team as the first NP Clinician Scientist, not only in Fraser Health but in the province," says Laura Housden, director for Fraser Health nurse practitioners.
"With this ground-breaking role we will be able expand the understanding of the vital contributions that NPs make to patient care while bolstering NP research and quality improvement initiatives. As we bridge the gap between research and clinical practice, this role demonstrates our commitment to NP growth and development. We are excited for the impact that we know Sarah will bring to our team and the care we provide to patients within the region."
Being embedded in clinical care brings a unique lens to Sarah's research.
"When people think about research they may think about randomized controlled trials or drugs that we're going to test but it can be so much more with the lived experience and the human phenomenon," she says.
The ability to give patients a voice through research is what Sarah finds so rewarding.
"There are a group of vulnerable patients who really haven't had a chance to tell their story or have their experiences be known and I was able to give them a voice through their involvement in research," she says.
"It may not have had a significant impact on the larger health system, but it impacted a very vulnerable population in a meaningful way."
Kate Keetch, Director, Department of Evaluation and Research Services, Fraser Health, says Sarah's work is a testament to how clinicians can and should do research that contributes to better health services and patient outcomes.
"I'm very proud of her and her impressive accomplishment in being Fraser Health's first Nurse Practitioner Clinician Scientist," Kate says. "The establishment of this position highlights the importance of embedding research into care."