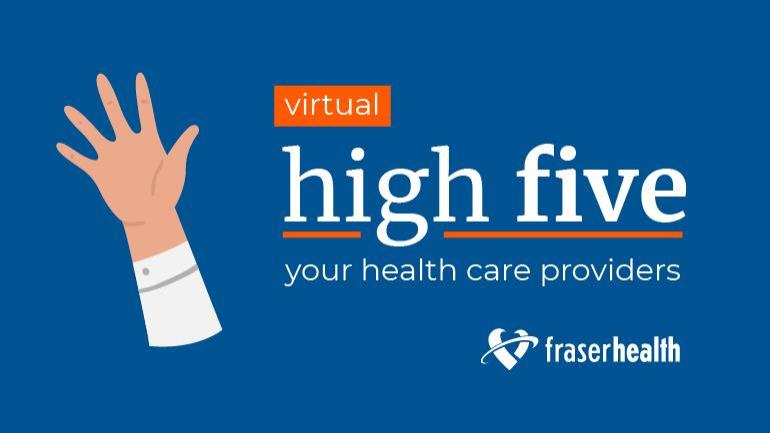 This week's high fives go to our amazing people at Abbotsford Regional Hospital, Burnaby Hospital, Chilliwack General Hospital, Delta Hospital, Eagle Ridge Hospital, Mission Memorial Hospital, Peach Arch Hospital, Royal Columbian Hospital, and Surrey Memorial Hospital.
Want to send a high five to your health care provider or Fraser Health team member? Leave a comment below or send your thanks using our online submission form. Read more kudos at fraserhealth.ca/highfive.
---
For Abbotsford Regional Hospital
I wanted to thank the ladies in the Breast Screening Clinic. Lisa and the technician were so kind, caring and patient with me. Thank you from the bottom of my heart for the water and cool cloths and words of support and encouragement. You turned my day around, thank you.
---
I would like to thank our porter Andrew, for his wonderful help. My young son got his finger squished in a door and Andrew walked us to and from x-rays. He was friendly, calm and great with my son. I appreciated his kindness and overall demeanor.
---
For Abbotsford Regional Hospital and Mission Memorial Hospital
Both hospital locations are great. The staff are welcoming, non-judgmental and have a great sense of humour. Thank you all – keep up the good work.
---
For Burnaby Hospital
Thanks to the team for caring for my partner. I see how your kindness and professionalism made a scary situation easier for him. Special thanks to Nurse Masooma and Dr. Hsu.
---
I just want to give a special recognition to Licensed Practical Nurse Nhavneet. She took the best care of me when I had a procedure done at Burnaby Hospital. During my stay she was very comforting and compassionate. I couldn't have had a better nurse at my bedside. You set the best example Nhav. Thank you, thank you.
---
I recently came in for day-surgery and wanted to recognize three wonderful, amazing people. Thank you to Elizabeth who helped me get ready for the operation; Max in recovery and Julie who assisted when I was getting ready to go home. All three of you are truly angels.
---
For Chilliwack General Hospital
I experienced excellent care from the minute I arrived at the Emergency Department. I was checked in quickly with care and kindness. The staff performing the bloodwork and x-rays were terrific. Dr. Olson was also very caring and thorough. Thank you to Chilliwack Emergency Room, five stars.
---
For Delta Hospital
I came to Delta Hospital due to pain from a suspected a kidney stone. The nurse triaged me upon entry and within five minutes was already working on assisting me with pain management. It was another case of world class care and empathy. The staff made a tough situation feel like a positive one.
---
For Eagle Ridge Hospital
Thank you to the x-ray technicians, Dr. Mostrenko and the nurses for the excellent care I received.
---
For Peace Arch Hospital
I recently had a surgical procedure at Peace Arch [hospital]. I was impressed with the seamless care I received. The communication was clear and timely and each staff member introduced themselves by name. I was provided with information along each step of the surgical process. Special kudos to Nurse Emma in Surgical Day Care. She took her time finding a good vein for an IV and did not rush. I can't identify one gap – thank you team.
---
For Royal Columbian Hospital
A heartfelt thank you to the Cardiac Program at Royal Columbian [hospital]. I came in because I was having a heart attack. Thank you to those who comforted me when I was scared, to Dr. Gunning and the staff in Cardiac Surgery Intensive Care Unit who cared for me post operative. Everyone I encountered displayed exceptional experience and skills. The entire experience at the hospital was beyond extraordinary. I will be forever grateful.
---
I came to the hospital as a result of a vehicle collision and was given such amazing care by everyone that I interacted with, especially the doctors who examined me. I am so grateful for all the staff – you are amazing. Thank you so much. Gold star care.
---
My husband had a double bypass at Royal Columbian [hospital]. Dr. Dionne and the whole team in the Cardiac Unit were wonderful in every way - informative, caring, compassionate, encouraging and highly professional. Thank you so much.
---
For Surrey Memorial Hospital
Thank you Nurse Wesley for going above and beyond for patients.
---
The nurses and staff in the Thoracic Unit are an incredible team of caregivers. The care my elderly father received was amazing. We cannot express enough our gratitude and admiration for Dr. Wen and the entire team of doctors who saved my father's life. They were quick to diagnose, come up with a plan of action, perform the surgeries required and communicate with me throughout the entire process. This team needs to be recognized and given an award for going above and beyond. Thank you all for everything you did to give our family more time with our father, grandfather and great-grandfather. We are forever indebted to them.
---
I visited the Pediatric Emergency Department with my daughter. I wanted to put in a compliment for Nurse Anil and the attending doctor. Anil was so amazing and caring. Thank you.
---