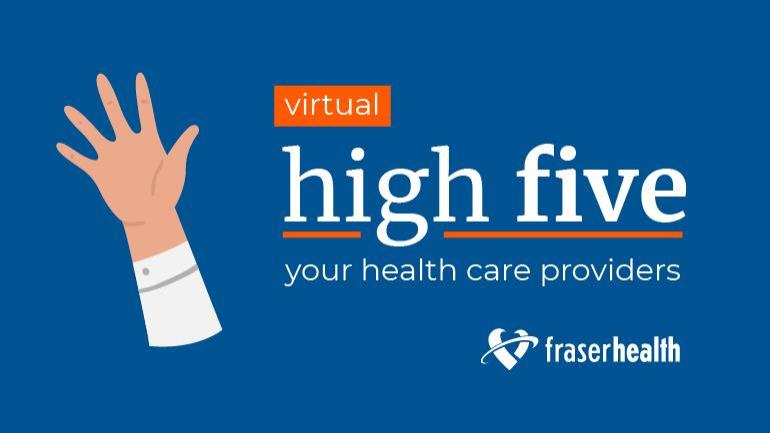 This week's high fives go to our amazing people at Abbotsford Regional Hospital, Burnaby Home Oxygen Program, Community Response Emergency Short Stay Treatment (CRESST) New Westminster, Langley Memorial Hospital, Peace Arch Hospital and Ridge Meadows Hospital.
Want to send a high five to your health care provider or Fraser Health team member? Leave a comment below or send your thanks using our online submission form. Read more kudos at fraserhealth.ca/highfive.
---
For Abbotsford Regional Hospital
I had the best experience with the doctor and nurses – they were awesome.
---
For Burnaby Home Oxygen Program
I wanted to extend my gratitude to the Community Respiratory team and the Home Oxygen Program, which has kept me going and enjoying family events that I otherwise would not have been able to attend. I've received excellent care and evaluations throughout my battle with lung disease. Thank you.
---
For Community Response Emergency Short Stay Treatment (CRESST) New Westminster
High fives to Mental Health Support Worker Jerry. Thank you.
---
For Langley Memorial Hospital
I had an excellent experience during my recent surgery at Langley Memorial [Hospital]. Surgical Day Care Nurses Michelle, Laura and Wendy were caring and knowledgeable. Operating Room Nurse Michelle was organized, committed and empathetic. Surgical Recovery Nurse Teresa is a lovely human being; I felt blessed to have her as a caregiver. Throughout my stay I felt confident I was in capable hands. Thank you.
---
For Peace Arch Hospital
I would like to compliment all the staff I encountered, from registration to departure. Everyone I met or spoke to were friendly, humorous and accommodating. I felt that each and every one really cared about my health. Thank you for making my visit relaxing.
---
The staff and physicians were amazing. Thank you.
---
For Ridge Meadows Hospital
Thank you to Nurse Aira, who was knowledgeable, professional, polite, respectful and funny. Despite how busy she was, she always took the time to check on my roommate and me. Her patience and charm were a reminder that one can do a great job while enjoying herself and assisting patients with care.
---
High five to Nurse Sanjay. She was polite, patient, professional and knowledgeable. It was a pleasure to receive care from her, and I wish her well in her career path.
---
Thank you to Nurse Colin for his professional, polite, funny, caring and knowledgeable demeanor. He explains everything to me in a way I understood without being overwhelmed. Thank you for your care and for helping me towards my journey to health and wellness.
---