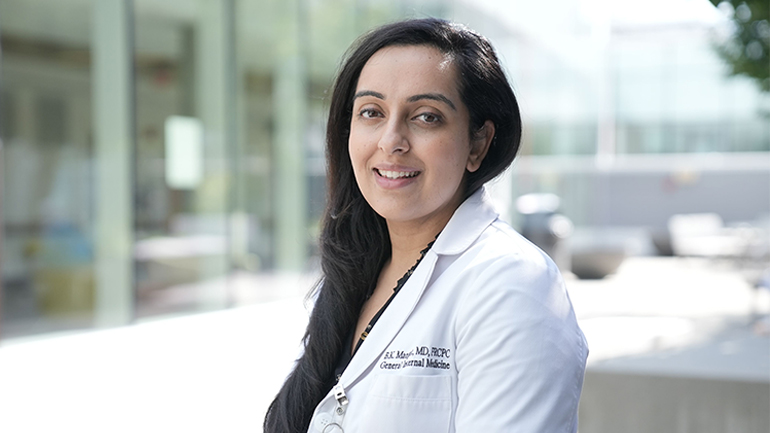 The new Internal Medicine Residency Program is a partnership between Fraser Health and the UBC Faculty of Medicine.
Photo: Dr. Birinder Mangat, program director, UBC Internal Medicine Residency Program, Fraser Health stream.
Dr. Birinder Mangat, UBC clinical assistant professor and internal medicine specialist, always knew she wanted to practice medicine in Surrey. She completed her Doctor of Medicine and residency training in internal medicine at the University of British Columbia's (UBC) Faculty of Medicine and currently works at Surrey Memorial Hospital and St. Paul's Hospital.
"I grew up in Surrey and always wanted to contribute to the health care system in my home community," she says.
Dr. Mangat is also the program director of the new UBC Internal Medicine Residency Program, Fraser Health stream. With financial support from the Ministry of Health, and in collaboration with Fraser Health, UBC will launch the program in 2024 with its first intake of five residents. Each resident will be able to complete five years of general internal medicine or sub-specialty training.
"UBC's new training site is an important step towards meeting the unique health care needs of communities south of the Fraser, while also expanding access to medical training throughout the region," says Dr. Ravi Sidhu, associate dean, Postgraduate Medical Education, Faculty of Medicine, UBC.
The Internal Medicine Residency Program follows a hub-and-spoke model. Surrey Memorial Hospital will be the hub for the new Medical Teaching Unit (MTU) and sub-specialty rotations, and community hospitals will be the spokes hosting community internal medicine rotations and some sub-specialty rotations. The program will have a once-per-month longitudinal clinic at both Surrey Memorial Hospital and community hospitals. "Surrey Memorial Hospital is well-suited for this centralized educational experience as it has a long-track record with residents," says Dr. Mangat. "The in-patient Internal Medicine Unit has been operational for almost ten years, so the atmosphere is in place for this unique opportunity."
Residents who will be working in community hospitals starting in July next year will be able to participate in the following sub-specialties:
Cardiology/Cardiac Care Unit
Critical Care
Endocrinology
Gastroenterology
General Internal Medicine
Geriatrics
Infectious Diseases
Hematology
Medical Oncology
Nephrology
Neurology
Palliative Care
Physiatry
Respirology
Rheumatology
"The hope is that some — if not all — of these residents will remain working in our hospitals once their training is complete," says Dr. Mark Ballard, internal medicine specialist and regional medical director for medicine at Fraser Health. "Building our academic capabilities helps support the larger vision of increasing the number of physicians in our region who can care for the residents of our communities now and into the future."
To learn more about how we are transforming health care in Surrey, visit the webpage here.