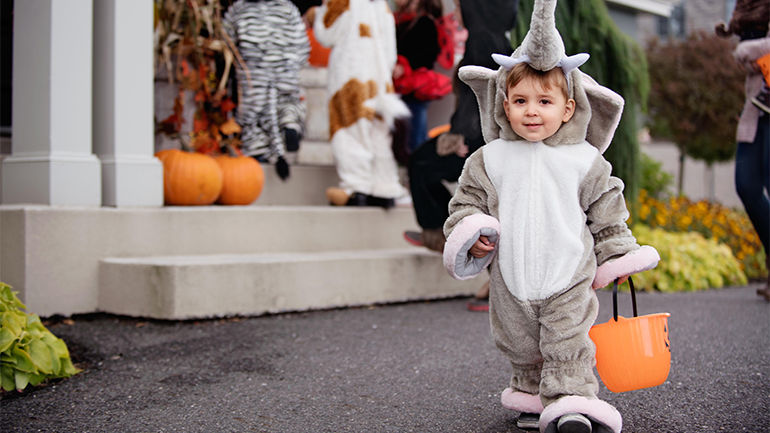 We're encouraging everyone to make this Halloween a hauntingly safe one by following the golden rule of road safety. "Remember to 'look left, look right and stay in sight'," says Injury Prevention Lead Jasmin Chatrath. "Following this rule will help ensure a fun and safe time for all."
Safety tips for drivers this Halloween:
Be alert: Drive slowly in residential areas to allow you more time to scan the road and react if needed. Watch for children stepping out from behind parked cars.
Take your time at stops: When you are nearing stop signs or intersections, come to a complete stop, scan the crosswalk and check multiple times before you start driving.
Do not drink and drive: Arrange for a ride with a designated driver, take transit, use a ridesharing app or call a taxi to get home safely.
Limit driving during trick-or-treating hours: Where you can, avoid driving between the hours of 4 p.m. to 8 p.m. on Halloween. If possible, complete your errands and shopping prior to or after these hours.
Keep driving safely after Halloween: With darker driving conditions during fall and winter months, it becomes harder to see people walking, cycling or rolling. Wet roads can increase your stopping distance. Take your time and actively watch for people.
Safety tips for trick-or-treaters:
Be visible: Consider costumes that are lighter in colour, bring flashlights or glow sticks and add reflective material to costumes, candy bags and shoes to ensure that children are visible to drivers.
Go as a group: Trick-or-treating in a group can be fun and makes everyone more visible to drivers. Plan a safe route that is away from busy roads and well-established. An adult should accompany children younger than 12.
Follow pedestrian rules: Remind children to always walk on sidewalks where they are available, cross only at intersections and refrain from walking between parked cars or through front yards.
Extra tips for everyone:
Make sure your cellphone is charged in case of an emergency.
Check treats before consuming and do not eat candy with unsealed or broken wrappers.
Having a good time on Halloween includes ending the evening safely. Let's all do our part to ensure everyone has a safe and happy Halloween.
ICBC reports that an average of 190 people are injured vehicle crashes in the Lower Mainland on Halloween.