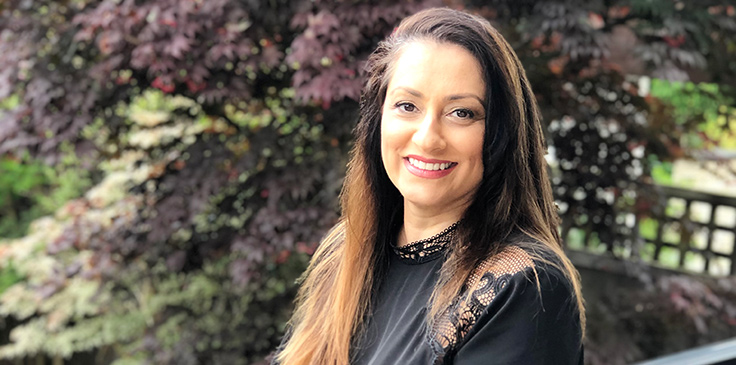 Client Partner

,
Talent Acquisition and Onboarding
"Though recruitment is behind the scenes, working during the pandemic made me truly realize the value of our team's efforts to get the right people ready and in place to do the most important job of all – caring for our patients and families."
"I'm a client partner in Talent Acquisition and Onboarding. I love welcoming new recruits into the organization and working with clients to help them find the missing piece of the puzzle, that is, the right person for their teams. COVID-19 brought me a new puzzle to solve – we hired just under 70 LPNs for the Long-term Care Relief Pool team for contracted long-term care and registered assisted living facilities. LPNs were needed urgently. We knew what we were up against. There was competition from other health authorities and private facilities. There was the fear factor from candidates as well. It was important to think creatively and find new ways of streamlining our processes so we could get the job done quickly. I became a one-stop-shop, keeping a single focus on outreach to candidates, pre-screening, interviewing, hiring candidates in the system and getting them ready for orientation. To keep up numbers, I reached out to all the colleges to cast the net to new LPN grads. This was a huge success.
With our reputation, people are keen to be a part of what we do. Though there were concerns about safety, I was happy to play a role in calming candidate's fears, help answer their questions and make them feel good about joining at a time when their skills and care were needed most. I'm proud of the teamwork during COVID-19. People really rallied together. There was collaboration with People Information and Benefits, Onboarding and IT to make sure we were able to hire into these positions within days not weeks. I also worked in conjunction with my colleague with staffing the Occupational Health Nurses for the Provincial Workplace Health Call Centre and balanced my regular management recruitment portfolio as well. Though, recruitment is behind the scenes, working during the pandemic made me truly realize the value of our team's efforts to get the right people ready and in place to do the most important job of all – caring for our patients and families."