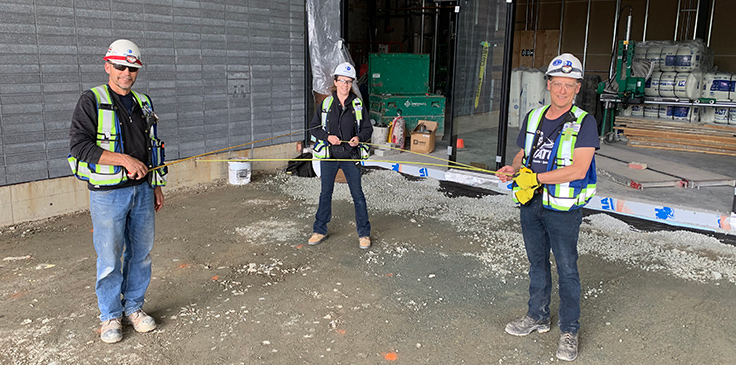 by
Capital Development Teams and Crews
"Throughout all of our sites, new guidelines for working during the pandemic were quickly put in place to ensure the safety of all of our crews and our teams have taken on the challenge with commitment and dedication."
"COVID-19 has changed the way we conduct activities in our daily lives. It has also affected how our teams and construction crews have been working on sites to continue working on our important upgrade and renovation projects. Throughout all of our sites, new guidelines for working during the pandemic were quickly put in place to ensure the safety of all of our crews and our teams have taken on the challenge with commitment and dedication.
The new protocols follow guidelines from the provincial medical health officer, with practices such as physical distancing and increased hand washing. Additionally, all sites identified designated access routes for construction workers to avoid high traffic and clinical areas and workers are routinely reminded not to come to work if they feel unwell or are sick.
We want to acknowledge and say a big thank you to all our teams and crews who continue to work on our many important projects to upgrade facilities in our region and improve care for our communities. As British Columbia continues with the phased restart plan, our Fraser Health project teams and crews will continue to follow recommended health and safety guidelines to ensure the protection of all individuals on site as we move our projects forward to completion.
All of our capital renovations and upgrades are part of Fraser Health's commitment to modernize our health care network, build capacity and improve timely access to quality, patient-centred care closer to home."