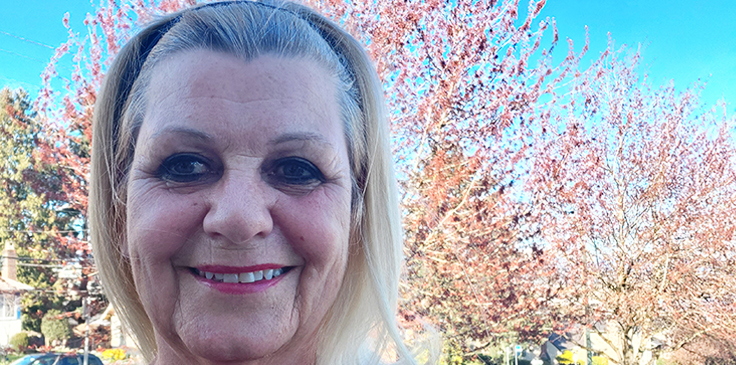 Auxiliary Program Volunteer

,
Royal Columbian Hospital
"The fact that I'm able to meet so many different people is one of the many highlights to volunteering. It also gives me a sense of purpose and satisfaction to think that just a few minutes of my time can make a difference to someone's day."
Darlene remembers entering Royal Columbian Hospital in a state of excitement and panic six years ago. She would soon be meeting her first grandchild and was feeling a mix of emotions.
There were complications and her granddaughter was born prematurely, just shy of five pounds, at Royal Columbian's Neonatal Intensive Care Unit (NICU).
"I remember feeling so grateful to the nurses and doctors at Royal Columbian Hospital who took very good care of my girls. I can't thank them enough."
"That experience really inspired me to want to give back to the community and volunteer at Royal Columbian Hospital. The staff and people are so kind and I love being able to volunteer and help out."
Darlene currently volunteers at the hospital's lottery booth and thrift shop and has been volunteering for over five years.
"When I originally joined Royal Columbian Hospital, I was posted to assist in the lottery booth, selling lottery tickets and raising funds for our patient programs. I love interacting with patients and their family members and other volunteers and so I miss being able to interact with people the most."
Darlene further adds that "most times, patients and families simply need someone to talk to when they are in the hospital, and so, I feel like this skill comes naturally to me and is important for many volunteers."
"The fact that I'm able to meet so many different people, all with different stories is one of the many highlights to volunteering. It also gives me a sense of purpose and satisfaction to think that just a few minutes of my time can make a difference to someone's day."