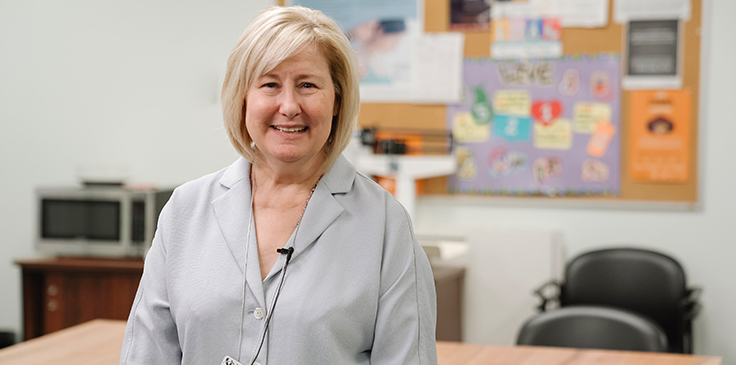 Manager, Clinical Operations

,
Population and Public Health
"We're led from the top in understanding what a 'We' culture is. Being able to be a part of supporting that climate in the workplace is the greatest gift I could ever have."
COVID-19 has been challenging for schools but Fraser Health staff like Jackie Ainsworth, a clinical manager in Population and Public Health, are diligently working behind the scenes to protect students, staff and families.
Ainsworth, who has been working with the COVID-19 multidisciplinary team for schools, says she knew at a young age that she wanted to go into nursing.
The arrival of the pandemic was like nothing she'd ever seen during her 35 years in health care. Safety planning, contact tracing management, managing exposures — Ainsworth and her team were ready for the important work at hand to keep school communities safe places to be.
Adapting to new roles was a challenge, she says, but community support during that time inspired the Population and Public Health team.
She recalls hearing the seven-o-clock cheers one evening at the Newport Public Health Unit.
"It was the first time I'd heard the cheers from Eagle Ridge Hospital and the entire unit went silent," she says.
"The nursing supervisor on that unit said, 'Everybody stop,' and we paused. We heard the cheers. I think about it now and think, wow, that gave the team that ability to move on, and get up the next day."
The work brought the team closer together, Ainsworth says.
"The second wave just gave me the opportunity to try to work with the teams to motivate and inspire them — helping them understand that this was the unique work that we could do. For me, it was the work that got me up in the morning," she says.
Most memorable for Ainsworth has been working closely on case and contact management with school districts and independent schools, where she and the team have built important relationships and helped create and improve processes.
"For me a really gratifying moment was to be able to implement a process that is complicated and complex, and then have the team dive in to help modify and help tweak that process so that we can make a workable solution for all," she says.
Ainsworth and her colleagues have successfully implemented solutions to help protect staff, students and their families and keep transmission rates relatively low through case and contact management, and careful management of exposures.
Ainsworth says her teams' ability to work well together has made it "easy to keep her spirits up". She's been inspired and motivated by the people she works with, and she makes sure to let them know that, too.
"Working at Fraser Health is an amazing opportunity," she says. "We're led from the top in understanding what a 'We' culture is. Being able to be a part of supporting that climate in the workplace is the greatest gift I could ever have."