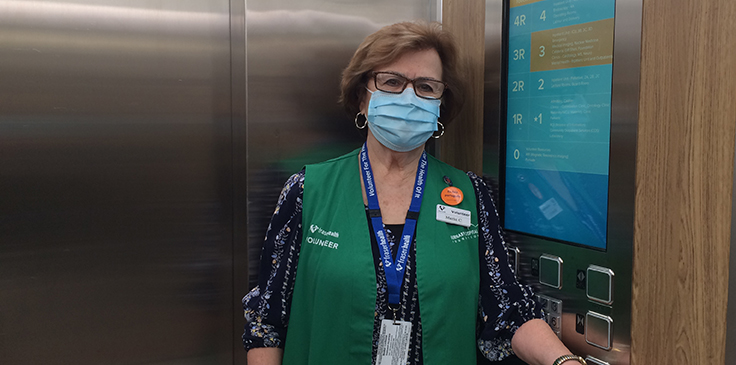 Wayfinder

,
Burnaby Hospital
"I feel best when I'm able to make someone smile or laugh. I love meeting new people and enjoy getting to know people and their stories. Volunteering lets me talk and walk with patients and family members while helping them navigate the hospital. And hopefully, I can make them smile or laugh in the process."
Maria Carinha has been a volunteer at Burnaby Hospital for over ten years. She wears many hats in her role as a wayfinder, providing comfort and sharing a smile with our staff, medical staff, patients and their loved ones.
She recounts the memory of her mother's care at Burnaby Hospital when she reflects on why she began volunteering. The feelings of gratitude for staff and medical staff are what motivated her to start.
"I will never forget the nurse that stayed with me and offered support as my mom passed away. I will never forget that moment and it inspired me to want to give back."
There have been many more memories made in Burnaby Hospital for Maria and her first generation Portuguese-Canadian family. All four of her grandchildren were born in Burnaby Hospital and she laughs that they keep her "young and on her feet." Similarly, Maria shares that she's grateful for the opportunity to volunteer and give back because it allows her to stay active, be part of an incredible team and bring positivity to the people coming in and out of Burnaby Hospital.
"I feel best when I'm able to make someone smile or laugh. I love meeting new people and enjoy getting to know people and their stories. Volunteering lets me talk and walk with patients and family members while helping them navigate the hospital. And hopefully, I can make them smile or laugh in the process."
When asked what motivates her to continue to volunteer, Maria answers without hesitation, "You have to do it from the heart. You have to have a big heart and you have to like to give."