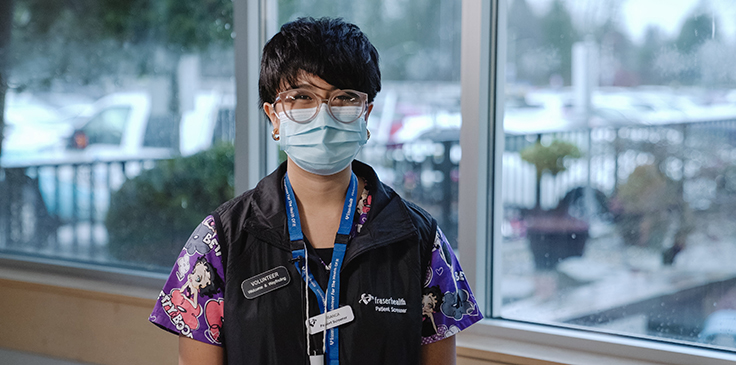 Patient Screener, Greeter and Wayfinder

,
Surrey Memorial Hospital
"Even though things are changing quickly and we have to adapt all the time, everybody is taking it one day at a time and I'm grateful to be part of a loving community like this."
If you've entered Surrey Memorial Hospital in recent months, you may have had the pleasure of meeting Bianca Zamora, a patient screener, greeter and wayfinder.
The first point of contact for many guests to the hospital, Zamora smiles through her mask and glasses as she guides patients and families through the building toward their destinations and appointments.
Zamora says she got into health care because she wanted experience in the field before launching into a career in nursing.
"I thought working at the hospital, especially, would get me a deeper look at what the system is like and what challenges I might meet," she says.
COVID-19 certainly presented some challenges. Zamora says she felt fear when the pandemic hit, due to uncertainty about what was to come, and concern about her heightened risk of becoming sick and spreading the illness to her family.
"But even during the 7-o-clock cheers in the beginning, I got courage from that and I felt that my role, even though I was afraid, was very important," she says.
Zamora says the first wave made her focus on hand hygiene and being more cautious around people. She used the knowledge she gained from her experience working at the hospital to provide better care. She started to feel stronger because of it.
At the same time, she saw the fatigue caused by the pandemic having an impact on people. She focused on supporting her colleagues and making sure guests felt supported, too.
"There was a time where we encountered many visitors upset at us," Zamora says.
"Many people are tired of this pandemic and tired of all the stressors that come with it. You have to be compassionate, because one person might be experiencing their stressors on one level, and another person might not but in the end, we're all just going through the same thing."
Zamora and her team talk about their own difficult days, sharing their experiences and keeping an open mind, she says. They constantly reach out to each other and stay united during tough times.
They recognize that some of the hospital's guests are suffering by not being able to visit their loved ones, and rely on hospital staff to provide plenty of support, she says.
"I think that Fraser Health and everybody in the health care industry, are doing their best," Zamora says. "Even though things are changing quickly and we have to adapt all the time, everybody is taking it one day at a time and I'm grateful to be part of a loving community like this."