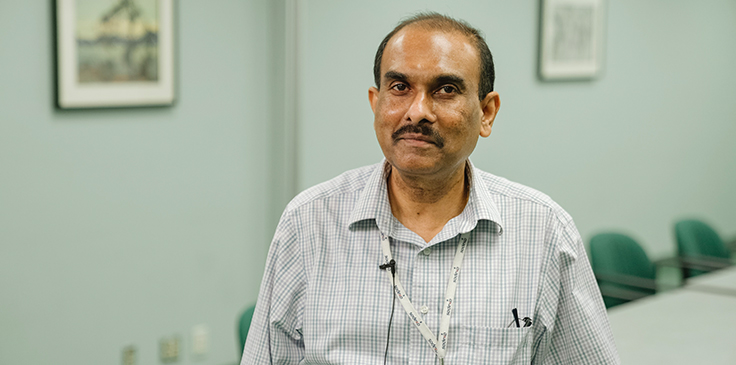 General Manager, Environmental Services

,
Langley Memorial Hospital
"Great teamwork will conquer anything."
Infection prevention and control, and enhanced cleaning, are top of mind when it comes to the workings of a hospital. They've been especially pivotal during the COVID-19 pandemic.
Tirath Raj, a Sodexo employee and general manager of housekeeping at Langley Memorial Hospital, makes it his mission to embrace teamwork to make sure this important job gets done.
When the pandemic hit, Tirath felt like we were all in unchartered waters but remembers it was the team spirit and sense of togetherness that got the housekeeping team through.
"Infection control was with us, the entire team at the site – including doctors and nurses," Tirath says.
"They were all there to support us as we worked to stay on top of things and keep the hospital as clean as possible."
A particularly challenging time was when long-term care required 24/7 housekeeping service. Tirath rose to this logistical challenge with his team enthusiastically onboard to help.
"We received a call from site leadership to say there was a demand to have a 24-hour housekeeper presence in addition to the regular housekeepers that were there," he says. "I dropped everything to schedule people and make sure we had enough staff."
Tirath praises his team for their dedication and for embracing the important work they are doing. When the second wave came, they were "better and stronger," he adds.
"We knew exactly what to do and how to do it. We had extra supplies stocked up in case there were issues with the suppliers. We were better able to conquer obstacles," Tirath says.
"The entire team, including doctors, nurses and leadership helped us to make sure that we were successful in maintaining the cleanliness of the hospital. We did two cleanings a day to make sure that the hospital was disinfected at the optimum level."
If you ask Tirath about lessons learned during the pandemic, he says, "great teamwork will conquer anything."