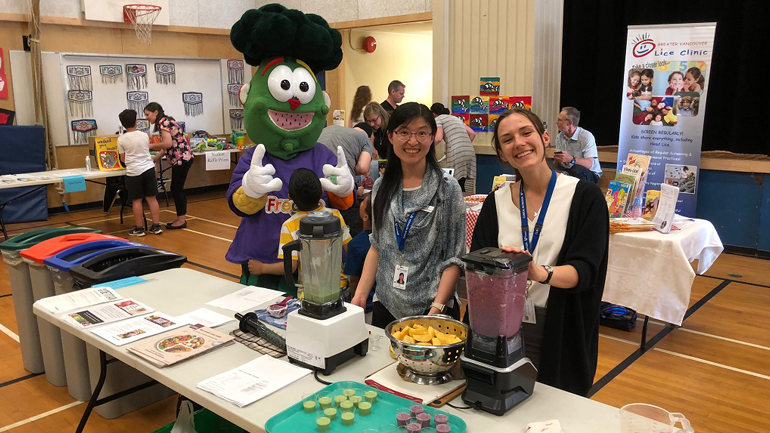 By collaborating more often with our partners in health, our school nurses can care for entire school communities.
That is exactly what Fraser Health's Healthy Schools public health nurses (PHNs) have been doing for the past two years. The Healthy Schools Program was refreshed in 2017 to focus more on upstream public and population prevention work.
There are now 12 PHNs working in the program, spread across 11 school districts and based at over 30 individual "focus" schools selected in partnership with districts. The Healthy Schools PHN's role is to develop and support health and wellness programs, which include entire school populations– even whole school districts – to make changes to create healthier school environments and improve students' health in and out of school.
"This is an exciting program where public health nurses can work with our school partners to directly influence health promotion at school," said Healthy Schools Program project leader Kari McDougall.
"It is especially exciting to see the impact the program is having."
By collaborating with schools and districts, the Healthy Schools team has recently helped launch:
In their roles as school community connectors the team is really having impact: starting to build a coordinated community network to support school health work. In addition to supporting health education, the school health nurses serve as project managers, community networkers, grant writers and local advocates.
They liaise with provincial programs such as SPORT BC, DASH BC, Farm to School BC, Live 5210, StrongStart and Healthy Schools BC to fund and run health projects. They also partner with and obtain funding from diverse private organizations such as VanCity, UBC, BC Lung, the Breakfast Club of Canada, ParticiPACTION, PC Children's Charity and Emma's Acres farm. In the course of their work, the nurses consult with parent advisory councils, municipal police departments and city governments.
The result of this widespread collaboration is increased funding for more sustainable health initiatives for our children and youth and wider school community of parents and school staff.
"There are so many projects and so many individual schools, this gave us a way to consolidate them all through this group and to find funding and obtain larger grants as a committee" said Surrey Schools district principal Daniel To who has been working with a team that includes Fraser Health Medical Health Officer Dr. Shovita Padhi, PHN Tracy Wong and Community Health Specialist Breezie Mitchell for the past two years. "It's a really good partnership."

To, who leads the district's mental health and wellness initiatives, said the Healthy Schools team was instrumental in putting on the Balancing Our Minds wellness day, in delivering six vaping education sessions and establishing teacher wellness programs. What's more, the nurses are able to conduct health research with youth in the schools, furthering our understanding of youth health issues.
Some of these school-based interventions include:
At Abbotsford's Alexander Elementary, the school held a month-long healthy drinking challenge where each child was given a water bottle from the city and drank only water at school.
In New Westminster, the Healthy Schools nurse and Public Health Dietitian are working with the New Westminster school district to create a district-wide meal program to ensure no child goes hungry and all eat healthy.
In Burnaby and New Westminster, the nurses support a Walk 30 campaign to get students moving every day for five weeks in the spring.
Still other initiatives include wellness workshops, yoga sessions, overdose training, mental health summits, sexual health teaching support, anti-vaping public information sessions, healthy living fairs for parents and students and after school cooking classes.
Learn more about school health on fraserhealth.ca/schoolhealth.