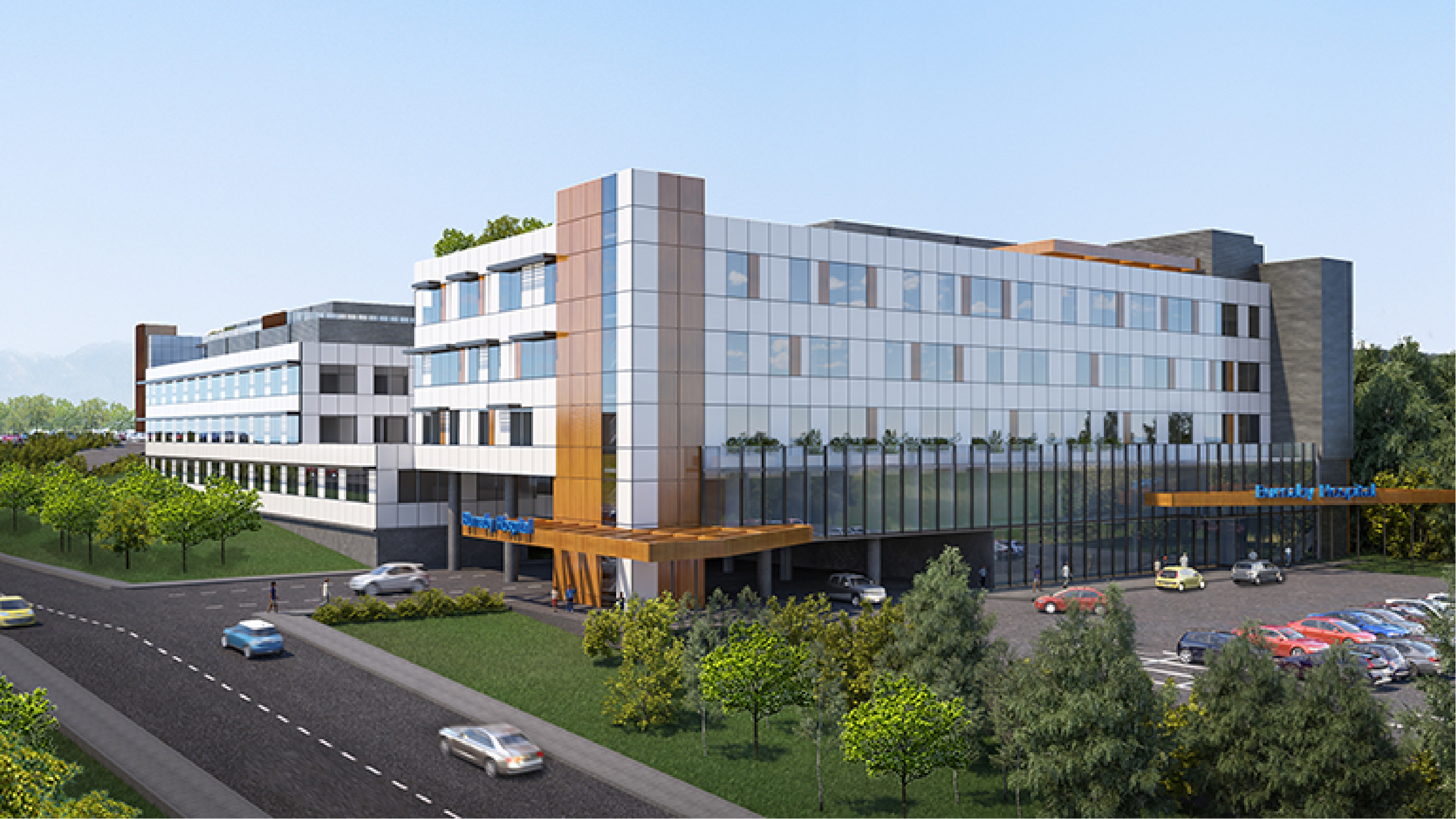 Burnaby residents are one step closer to a modern, state-of-the-art medical and surgical health care campus at Burnaby Hospital.
Three qualified teams have been shortlisted to participate in the next stage of the competitive selection process to design and build the new Keith and Betty Beedie Pavilion, a new Energy Centre, and upgrade existing buildings on campus. These upgrades include enhancements to the emergency department, operating rooms, pre- and post-operative recovery spaces, and the medical device reprocessing department.
"In these times, more than ever, we recognize the importance of our health care system, and our commitment to redevelop Burnaby Hospital acknowledges the priority we place on timely access to quality health care services. This key milestone gets us one step closer to getting shovels in the ground to bring the very best health care facilities to the diverse community of Burnaby," said Adrian Dix, Minister of Health.
The Request for Proposal (RFP) materials were issued to the following three successful proponents of the request for qualifications process:
EllisDon Design Build Inc.

Ledcor Design-Build (B.C.) Inc.

Canadian Turner Construction Company Ltd.
To inform the proposals, the proponents will reference detailed information developed by the project team which outlines Burnaby Hospital's requirements for space, layout, equipment, and scope.
"Burnaby Hospital provides vital public health-care services to people in our community, and with the announcement of a shortlist of qualified teams for the design process, we continue to make significant progress in moving forward with construction, which will create jobs and help our local economy," said Anne Kang, MLA for Burnaby-Deer Lake, and Minister of Citizens' Services.
"Fraser Health is excited to take this next step in the redevelopment of Burnaby Hospital to improve care and meet the future health care needs of the Burnaby community," said Dr. Victoria Lee, president and CEO, Fraser Health. "Our team has put a tremendous effort into getting us to this milestone and has incorporated the insights and expertise of our nurses, physicians, allied health care teams, operational leaders, clinical and facilities support teams, as well as patients and their families."
The RFP process will determine which of these three teams Fraser Health will select to lead the design and build of the Keith and Betty Beedie Pavilion, the new Energy Centre, and manage the construction upgrades to existing buildings on the health care campus. The successful proponent will be identified through a merit-based evaluation process which will complete in mid-2021.
The provincial government announced the approval of the Burnaby Hospital Redevelopment Project on September 3, 2019. Phase one will include the new six-storey Keith and Betty Beedie Pavilion with 78 rooms, most of which are single-patient, which will not only enhance infection prevention and control, but provide greater comfort and privacy to improve the patient and family experience.
The Beedie Pavilion will include a mental health and substance use inpatient unit to offer patients specialized care in a safe, private environment. In addition, the Beedie Pavilion will include a new maternity and labour and delivery unit which will provide single-room care to women during labour, delivery, recovery and post-partum. This model promotes family-centred care for newborns and families. The Beedie Pavilion will also include a general medical inpatient unit including negative pressure rooms to enhance infection control. The construction is expected to begin in 2021 and complete in 2024.
Phase one of the redevelopment will also expand and renovate existing buildings on the health care campus. This will include a larger emergency department, which will reduce wait times, provide greater patient privacy and comfort, and enhance infection control. It will also add four new operating rooms, additional pre-operative and post-operative recovery spaces and a new medical device reprocessing department. These upgrades are expected to be complete by mid-2025.
The estimated $577-million cost of phase one of the redevelopment project is funded by the Province, Fraser Health, and the Burnaby Hospital Foundation.
"Earlier this year, Burnaby Hospital Foundation launched the Proud History, Bright Future campaign to raise $30 million toward this redevelopment, and we're very grateful for the support we have received already from our vibrant and diverse community in Burnaby and surrounding neighbourhoods," said Kristy James, CEO, Burnaby Hospital Foundation. "This milestone brings us a big step closer to having the state-of-the-art health care facility our patients and medical staff need, and we look forward to working closely with all of our donors and partners in seeing this project through."
For more information on the Burnaby Hospital Redevelopment Project, visit www.fraserhealth.ca/bhredevelopment.