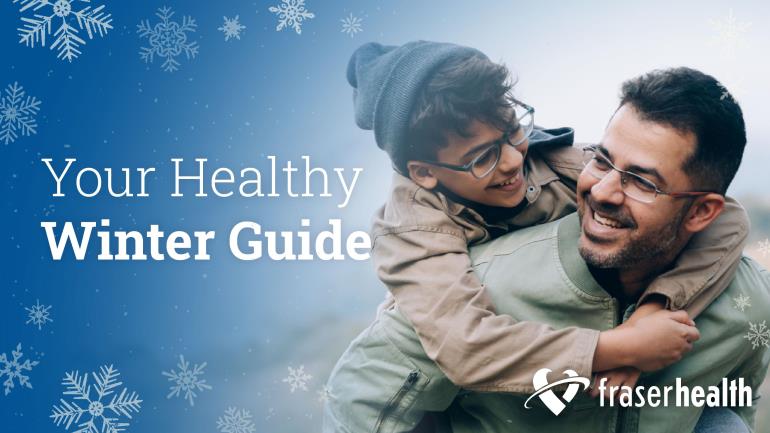 Tips to help keep you and your family safe, healthy and warm so you can enjoy the cooler weather all winter long.
Manage common illnesses and use the ER wisely
Learn how to prevent and treat common illnesses this winter and how to find the right care option when you need it. Also, be sure to follow any public health guidance and protocols related to preventing the spread of communicable disease.
Take care of your mental health during the winter months
The shorter, darker days of winter can get us down. The holidays can also be a difficult time for many people. It's important to know that you are not alone.
Staying physically active even when it's cold
There are plenty of creative ways to embrace the chill and stay active this winter season.
Eating and drinking during the holidays
Food and alcohol are often present at many celebrations leading up to, and during the holidays. Read the articles below to help you steer clear of diet culture and, if you choose to consume alcohol this season, create a plan to lower your alcohol risk.
Snow and cold safety - winterize yourself and your home
It's important to take proper precautions to stay safe and warm to prevent injuries during the winter months.
Visit our Winter Seasonal Readiness page to learn how to prepare yourself and your home for the winter season. You will find information on emergency preparedness, dressing appropriately, how to safely get around by car or on foot and how to prevent injuries when shovelling snow.
Darker days means both drivers and pedestrians are at increased risk for collisions and injuries. Read these safety tips for drivers and pedestrians.
Prevent falls and fall-related injuries with winter
Falls can occur at any time of the year, but winter presents some specific hazards with cold and wet weather and longer periods of darkness. Older adults, especially those who are frail, are at particular risk of falling and having serious injuries as a result of a fall.
Learn about things you can do to prevent falls including exercises, simple changes you can make to your home, and having your vision checked.
Visit our Seniors' Community Connector page to find supports for older adults and their caregivers, including connection to physical and social activities, transportation support and food delivery services.
Find out three exercises you can do for fall prevention.